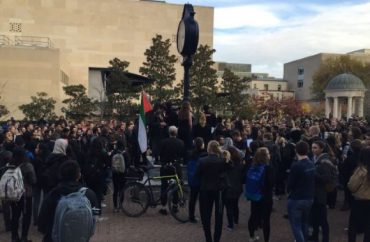 'Placing us in these officers' care is an act of violence, especially for Black students'
Protesting students at George Washington University say forcing them to be protected by campus police is akin to an "act of violence" — because police officers support Donald Trump.
The students have demanded campus leaders direct money to several diversity programs to rectify the situation, one of several demands lodged with administrators recently as left-leaning students at the private, Washington D.C.-based university reel from Trump's election.
"The university must re-channel its resources and money to its fundamental requirement: to protect its students," the demand letter reads. "This safety must not depend on the University's police. The Fraternal Order of Police, the largest police union in the United States, has formally endorsed President-Elect Donald Trump. The FOP includes over 10,000 members in Washington D.C., many of which have jurisdiction over GW's campus. Placing us in these officers' care is an act of violence, especially for Black students."
In addition to this demand, the students have called for campus leaders to "recognize white supremacy" and create a "sanctuary campus" for students in the country illegally.
"The 2016 presidential election has emboldened the structures of oppression that are embedded in our country at all social, political, and economic levels," states the demand letter, a copy of which was obtained by The College Fix.
Additional demands include:
The school must always assert itself on the side of students of color
GWU cannot harbor "structural Islamophobia"or interfere with Muslim students' attire.
GWU must "increase the acceptance of Palestinian international students to prevent their genocide at the hands of Israel"
The school must fund aid and legal assistance for undocumented students and their families, and be a "place of sanctuary" for Muslim students and illegal immigrants
Sexual assault claims must always be believed
Divestment from "unethical corporations" that deal with fossil fuels, private prisons, "colonialism and apartheid in Palestine," and more
Commitment to leading the country in sustainable fossil fuel adoption and an increase in campus sustainability jobs and outreach
A promise to pay all workers a "living wage"
The demands were lodged Tuesday, Nov. 15, the same day students with left-leaning organizations staged a class walk out.
The protesters, many carrying anti-Trump and anti-capitalist signs stating "Capitalism Must Go" and "Justice for Palestine," marched around campus and called for support of their demands.
Diego Rebollar, a student at George Washington University who witnessed the protest, told The College Fix that in addition to slandering Trump, his peers called to label Israel a state sponsor of genocide, demanded segregated "black spaces," and called police officers "violent" and "racist."
The demands have been endorsed by the school's Feminist Student Union, Students for Justice in Palestine, Fossil Free GW, the Progressive Student Union, and more.
Ironically, Rebollar said, the same police officers who protesters slandered as "violent" and "racist" were the ones who escorted protesters on their march through the streets of D.C.
"It was those same evil police officers who protected the protesters and made sure their voices could be heard," he said.
Like The College Fix on Facebook / Follow us on Twitter