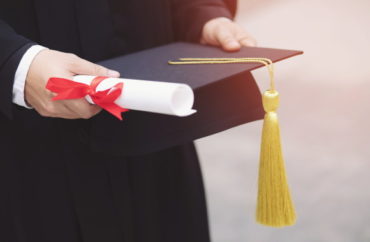 Slightly over 50 percent of college graduates were employed with traditional employers six months after graduation, according to a study by the National Association of Colleges and Employers.
The "First Destinations for the Class of 2020" study, released late last year, looked at 563,000 bachelor's graduates across 337 colleges and universities and found only 50.2 percent of the class of 2020 had full-time jobs with a "traditional employer," which excludes those doing freelance or entrepreneurial work.
The job rate is the lowest the group has measured in the seven years it has conducted the review, and down from 55 percent job rate in 2019.
In lieu of getting jobs, more undergraduates moved toward advanced degrees. According to the study, 21 percent pursued continuing education after graduation, up from 18.6 percent in 2019.
In 2021, the unemployment rate for those ages 20 to 24 remained well above the national unemployment rate, although the rate had improved sharply over the COVID-affected year of 2020.
According to the Bureau of Labor Statistics, Americans in November 2021 between 20 and 24 had an unemployment rate of 4.9 percent, compared to the national rate of 4.2 percent, but well below the 6.6 percent unemployment rate for young Americans in 2020.
The National Association of Colleges and Employers notes the damage the pandemic did to the economy and the harm it inflicted on job seekers in 2020.
"The COVID-19 pandemic threw the final months of their college careers into chaos as schools were forced to close to in-person classes, and graduations took place via Zoom instead of on campus," a statement accompanying the report reads.
Yet while employment for college graduates was down, average income for those grads climbed from $54,488 in 2019 to $56,576 today.
According to NACE Executive Director Shawn VanDerziel, that growth in average income may be due to the types of jobs graduates are now offered.
"Many of the jobs that new graduates often get right out of college disappeared due to the pandemic," said VanDerziel in a statement. "Many of the retail, hospitality, and other service-focused jobs simply weren't there, and these tend to be lower paying. As a result, most of the salaries that were reported were the higher-paying jobs, which skewed the average."
NACE has published an interactive dashboard where users can dig deeper into the data.
For instance, the group reports the employment rate for private school graduates exceeds the rate for public school graduates by 55 percent to 48 percent. In terms of gender, male students were hired at a higher rate, 50 percent, than female students at 44 percent, and nonbinary students at 42 percent.
However, when freelance and entrepreneurial work is factored in, nonbinary students had an overall higher total employment rate — 61 percent — than either males (58 percent) or females (54 percent).
In terms of race, white students had the highest employment rate with traditional employers at 51 percent, followed by Asian-American students at 46 percent, African American students at 41 percent, and Hispanic students at 41 percent.
Yet Asian-American grads earned vastly larger starting salaries ($73,400), more than whites ($56,850), African-Americans ($56,079) and Hispanics ($55,615).
At 57 percent, the highest traditional employment rate was found in the "Plains" geographic region of the U.S., comprising Missouri, Minnesota, Nebraska, Kansas, and North and South Dakota.
The report also notes that graduates in engineering, engineering technology, health sciences, business, and computer science fared best in securing a full-time job within six months of graduation, which is consistent with previous years.
ALERT: Check out our new Campus Cancel Culture Database!
IMAGE: Fongbeerredhot/Shutterstock
Like The College Fix on Facebook / Follow us on Twitter