Poorly written letter draws immediate ridicule
Hamilton College's next president must be "of color" to satisfy a shadowy group of protesters at the liberal arts school in Clinton, New York.
Known as "The Movement," the protesters held a rally denouncing "tokenism" and released 39 demands Tuesday that were sprinkled with typos, malapropisms and apparent contradictions.
Even by the standards of recent demands by protesters on other campuses, The Movement's list is sweeping. It includes a Clinton-wide ban of anonymous social-media platform Yik Yak, less-stringent evaluations for minority faculty and the exclusion of white faculty from leadership in some departments.
The anonymity of The Movement, which is not accepting new members, has made it an easy target for critics who say its Yik Yak demand is hypocritical.
The group's efforts could be reasonably mistaken as a giant prank: The Facebook event for Tuesday's protest said it expected those who "self-identify" as "marginalized" to wear "Token" t-shirts printed by The Movement.
Hamilton student Ryan Glenn, who writes for the undergraduate publication Enquiry, told The College Fix he saw "around two dozen people at the protest," which immediately garnered a "negative response on Yik Yak."
Questions for presidential applicants must center on 'systematic oppression'
The demand list, which came with a 24-hour window for the administration to issue a "statement professing the validity of these demands," comes as President Joan Stewart prepares to step down June 30. She has led Hamilton for more than 12 years.
"We, the Students of Hamilton College, demand the end of the inevitable tokenization of all marginalized bodies at Hamilton College," The Movement's manifesto begins, using the same "We, the Students" construction throughout the demands.
RELATED: BRAVE: Meet the campus leaders who've stood up to bullies and special snowflakes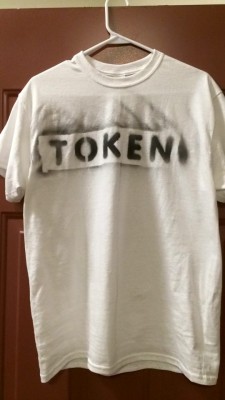 "Hamilton College cannot continue to overwhelmingly perpetuate narratives that center [on] whiteness, able-bodied individuals, colonization, heteronormativity, and cisnormativity," the list reads. For those "underrepresented bodies" on campus, "It becomes the duty of these select few to educate the masses, a burden that these individuals should not carry."
It defines tokenism as the appointment of a "token number of people from underrepresented groups in order to deflect criticism" – and then goes on to demand hard quotas for such groups.
The Movement demands that Hamilton hire more faculty of color, to "make up thirteen percent of Faculty before 2025." The college cannot count Africana Studies Department faculty as part of that quota, the document cautions.
Declaring that "the power of this College belongs with the Students," the anonymous protesters demand that they be part of the hiring process of Stewart's replacement.
"We demand a President of Color" because the "lack of diversity" among Hamilton's past presidents "has perpetuated these existing systematic problems," the list reads.
The protesters want the minutes of the applicant interviews to be released publicly, and demand that the questions directed to applicants "center [on] systematic oppression and Hamilton College's accountability with institutional racism."
No whites in charge of 'societies colonized, massacred, and enslaved'
The concept of "safe space" made it into the stipulations, demanding that President Stewart apologize to all "Faculty, Students, Staff, and Administrators of Color, as well as their allies, neither of whom were provided a safe space for them to thrive while at Hamilton College."
As with other universities, the Hamilton protesters want forced education in the form of "mandatory yearly diversity and inclusion workshops for all Faculty and Staff."
White faculty are to be "discouraged from leading departments about demographics and societies colonized, massacred, and enslaved."
Flipping around a demand issued by Wesleyan University protesters in adjoining Connecticut, The Movement demanded that certain professors be protected from bigotry.
It demanded a restructuring of faculty evaluations to take into account "implicit bias, institutional misogyny, xenophobia, and racism," so as to "protect Faculty of Color."
Stop counting internationals as 'diverse'
As with the asterisk on the Africana Studies Department, the protesters don't want to make student diversity easy for Hamilton.
They want to change how diversity statistics are determined, by "separating domestic and international diversity statistics." That's because "using International students to increase diversity statistics is unethical and enforces the tokenization of domestic Students of Color."
RELATED: Wesleyan activists demand microaggression-reporting system, 'mandatory social justice workshops'
The protesters also demanded more recruiting of "undocumented" students through the proposed Dream Act, free tuition for "Indigenous peoples," and set-aside "Student Assembly seats for marginalized and underrepresented groups."
I wouldn't want to be @vigebarrie dealing with @thedailybeast's piece on @HamiltonCollege tomorrow. Feeling for my alma mater #getscrolled

— Brady N. R. Sprague (@BradySprague) December 2, 2015
Ban mean words
Under the "Institution" section, the protesters want to sanitize conversation both on and off campus.  
Yik Yak must "be banned from the Clinton area," because it "provides a platform for hate speech inflected with racism, homophobia, islamophobia, transphobia, amongst several other bigotries."
This is followed by a demand to ban all "hate groups" on campus, because "freedom of speech should not and cannot be used for justification for rampant hateful language or opinions that further marginalizes historically oppressed communities."
The editor of Enquiry, the student publication, told The Daily Caller he thought his publication was the target of the "hate speech" provision. It's funded by the independent Alexander Hamilton Institute, a research center that was to be set up at the college itself but faced opposition from progressive faculty in 2007.
RELATED: Fight 'one-sided pseudo-economics' in the academy with privately funded centers
"We've had our publication stolen and destroyed a few times before," but Hamilton administrators "try to avoid addressing" the attacks on students' free speech, Michael Adamo told The Daily Caller.
11/16 issue of Enquiry reads 'Nous sommes tous parisiens' pic.twitter.com/56CmH636iC

— Enquiry (@Enquiry_AHI) November 16, 2015
Quick to pacify protesters
In an email shared with The Fix, the administration wrote to the entire campus in response to the protesters.
Stewart "invited the writers to meet with senior administrators and me tomorrow morning so that we can better understand their concerns and also clarify inaccuracies. Certainly, we always want to do better as a community and encourage discussion."
In response, the protesters sent an email back reiterating their demands and determination to not back down.
Hamilton had already scheduled a "crucial conversations" event for next week, following a mid-November forum, focused on "students and faculty of color, inclusivity, intolerance and offensive social media posts," the school said Wednesday.
Hamilton's statement said "about two dozen students" attended Tuesday's faculty meeting, with some reading "from the Movement's demands," and the meeting was "peaceful and discussion was civil."
Students 'finally pushed back against all this garbage'
Glenn, the student writer for Enquiry, told The Fix that wariness of The Movement – which dates its founding to 2013 – and similar protesters had been building.
"Only in the last few days have the majority of students finally pushed back against all this garbage," Glenn wrote, referring to outlandish protester demands. "Students express their opposition on Yik Yak for fear of publicly being labeled racist, bigoted, etc."
Critics outside of the Clinton-area Yik Yak stream also mocked The Movement for its inelegant prose: It apparently wrote "vilification" when it meant to write "validation of these forgotten voices" in the original release. The current document uses "substantiation."

The Movement does not appear to be using a Twitter handle. It's been spoofed by a group proclaiming itself "Hamilton Movement," with a misspelling of "Hamilton."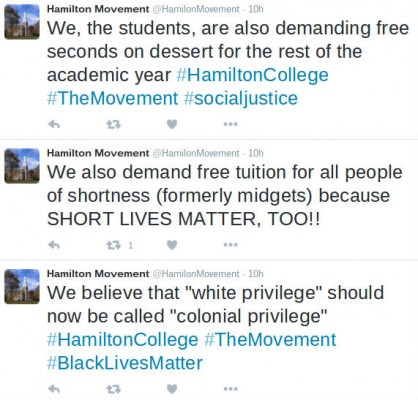 Like The College Fix on Facebook / Follow us on Twitter
IMAGES: jensteele/Flickr, Hamilton College/Yik Yak, The Movement/Facebook, @HamilonMovement/Twitter