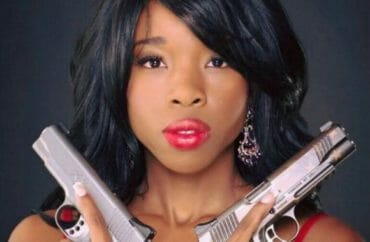 UPDATED
'We realized that the student application was not sufficiently complete'
Antonia Okafor is speaking about "Female empowerment and the Second Amendment" at Mount Holyoke College Thursday night, but Wednesday night she was supposed to address Hampshire College on the same subject.
She didn't get to, because the administration canceled her speech hours before.
An administration spokesperson told The College Fix that her sponsor left off some important information from the venue application – namely that Okafor's speech might provoke "intense debate."
Okafor caused a social-media furor against the private liberal arts school in Massachusetts by tweeting early Wednesday evening that Hampshire, which had an American flag-related kerfuffle a year ago, "has just now cancelled my speech scheduled in 2 hours."
She said her Second Amendment topic had been deemed "too controversial." Okafor later did a live video from a hotel room explaining what happened.
Shame on @hampshirecolg for cancelling @antonia_okafor's speech TWO HOURS before it was set to take place. Her message wasn't "controversial." It was about how the 2A empowers women. But I guess it's okay since she's a conservative. pic.twitter.com/Nf2JXqATmk

— Autumn Price (@AutumnDawnPrice) December 6, 2017
The spokesperson gave The Fix a statement that said the college "sincerely apologizes" for canceling the speech, but denied that the speech subject, content or Okafor herself was the reason:
We canceled the event when we realized that the student application was not sufficiently complete. It lacked the necessary details we require in advance of any event, particularly one that might draw large audiences and intense debate, so we can allot the appropriate resources to staff and support the event.
The administration will reach out to Okafor and her organizers to "discuss this process and consider options for rescheduling her visit to campus," the statement read. It was also posted on the college website.
The Fix has requested from the administration a point-by-point rundown of what necessary information the organizers left off, and what objective criteria they could have consulted to judge whether the event could provoke "intense debate."
Hampshire College is making excuses. The application not only included a title with "Second Amendment" and a description of the speaker, but a photo of her with two Kimber 1911s.

Pathetic. https://t.co/Zwr9LXiZB0

— Kassy Dillon (@KassyDillon) December 7, 2017
Lone Conservative posted an email timestamped 4:30 p.m. that was sent to event sponsor Junoon, the South Asian and international students organization on campus.
Carolyn Koske Strycharz, the interim director of campus leadership and activities, told club leader Rahim Hirani that the "Contract Request Form that was submitted was denied because it did not have complete information about the presenter":
Also, an event where someone is coming to campus to speak about the second amendment [sic], which is a very controversial subject, would need to have extra considerations and precautions put into place which cannot be done on such short notice.

Had there been a full description of the presenter and their background given in the event submission, [Campus Leadership & Activities] would have pended [sic] the event for further information.
Koske Strycharz also questioned why Junoon would sponsor a gun-rights event "when it is not associated with the group's mission statement?"
Hampshire "cannot assume the risk of this person coming to campus without additional measures put into place," she said, declaring the event "cancelled."
Koske Strycharz's office, however, explicitly approved the event in an email two days earlier, also posted by Lone Conservative. It listed the event date, location and reservation number.
Read the full email at Lone Conservative.
UPDATE: The administration emails to the sponsor – approving the event and then announcing the event would be canceled – has been added.
MORE: 'Alternative space' created for students who don't like Antonia Okafor
Like The College Fix on Facebook / Follow us on Twitter