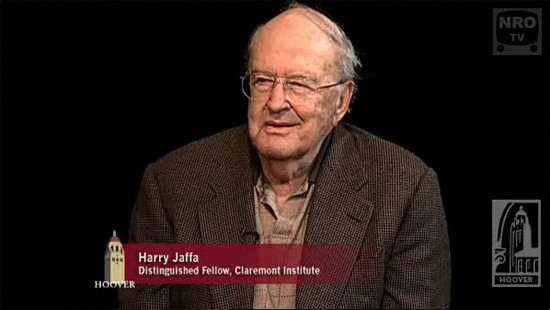 John J. Miller writes in the latest edition of National Review:
When Harry V. Jaffa learned of the Boston Marathon bombing on April 15, he phoned a 36-year-old high-school teacher in Ashland, Ohio, named Sara Whitis. "I just want to be sure you're okay," he said in a voice mail. Whitis listened to the message when she arrived home from work. "It stirred me to tears," she says. Two years earlier, Whitis had completed a master's thesis about Jaffa's scholarship on Abraham Lincoln and the politics of freedom. The paper had come to the attention of the 94-year-old professor, who liked it so much that he reached out to Whitis and took a grandfatherly interest in her career. He also knew that Whitis was a marathoner who had raced in Boston seven times — and was relieved to learn, when Whitis called back, that she was safely at home.

Jaffa is one of the most famously cantankerous intellectuals in America — and when he takes a special interest in a person, it doesn't always remain as amiable as it did with Whitis. This is especially true for fellow conservatives. "If you think Harry Jaffa is hard to argue with, try agreeing with him," quipped William F. Buckley Jr. in the foreword to one of Jaffa's books. "He studies the fine print in any agreement as if it were a trap, or a treaty with the Soviet Union." At various times, Jaffa has lit into such right-of-center heavyweights as Willmoore Kendall, Irving Kristol, and George Will. The more they had in common, the more contentious the disputes seemed to run. "I do not mean to be gentle with you," Jaffa once wrote in an open letter to Walter Berns, another conservative scholar. "In your present state of mind, nothing less than a metaphysical two-by-four across the frontal bone would capture your attention." An annoyed Berns later retorted: "Who will rid us of this pest of a priest?"

…Jaffa may be the most important conservative political theorist of his generation. He is the founding father of the Claremont School of conservatism, a set of ideas connected to Claremont McKenna College and Claremont Graduate University, which are located in suburban Los Angeles. Some call it "West Coast Straussianism," in reference to Leo Strauss, the political philosopher who was Jaffa's main influence. In brief, the Claremont School believes in the moral truth of natural right as well as American exceptionalism, with a special appreciation for the statesmanship of the Revolutionary generation and Abraham Lincoln. Its disciples — i.e., students of Jaffa as well as the students of his students — may be found at some of the most high-minded perches within the conservative movement, from the Heritage Foundation to Hillsdale College (where I teach), plus, of course, the Claremont Institute and its Claremont Review of Books. Modern conservatism's focus on the Declaration of Independence and the Constitution — never absent, but increasingly prevalent in these tea-party times — owes much to Jaffa and his circle.