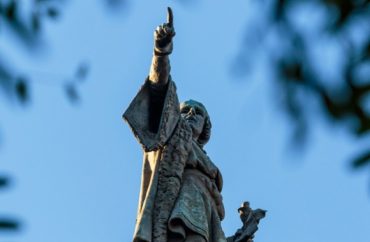 Native American activists demand that school disavow Columbus Day
Harvard has added a new holiday to its calendar, one that seeks to recognize "indigenous people" alongside a famous explorer.
The school recently designated the second Monday in October as "Indigenous Peoples' Day," the same day that the school recognizes Columbus Day, The Harvard Crimson reports.
The newly designated indigenous holiday is "a celebration of our survival in that we're still here, thriving, even though it's not really known," one Native American activist, Ashley Hamilton, claimed.
The school "quietly" designated the holiday, according to The Crimson. "We were not talked to," Hamilton told the newspaper.
The installation of the holiday comes after the city of Cambridge voted to change the name of Columbus Day altogether; the city did not make the holiday a dual-name day but changed it entirely to Indigenous Peoples' Day, according to The Boston Globe.
"At a basic level," Cambridge councillor Nadeem A. Mazen told The Crimson, "we're saying 'no' to a day named after someone who was a tyrant, and was a torturer, and was a destroyer of Indigenous people, to turn this around and to honor those people without saying anything bad about other people."
A Harvard spokesperson wrote in an email that the Faculty of Arts and Sciences updated the wording on its calendar to include both holidays in accordance with federal and Cambridge parameters and declined to comment further.

Native Americans at Harvard College has advocated for official recognition of Indigenous Peoples' Day by the University for years, according to Truman M. Burrage '19, the club's president and a member of the Choctaw Nation of Oklahoma.

Burrage said the group sent a letter and signed petition to University President Drew G. Faust and a number of other administrators last year, along with a petition. The Undergraduate Council endorsed the petition last year.

The group will hold an event in the Yard Monday to celebrate indigenous culture and demonstrate against the name Columbus Day.
"[S]ome Native American students," The Crimson reports, "say they want the University to formally renounce Columbus Day, arguing that the Italian explorer should not be celebrated."
MORE: Ceding to demands, Pepperdine will remove Christopher Columbus statue
MORE: 'Decolonizing' Oklahoma U. effort includes renaming Columbus Day, protesting 'whitewashing' Sooners name
IMAGE: Shutterstock
Like The College Fix on Facebook / Follow us on Twitter