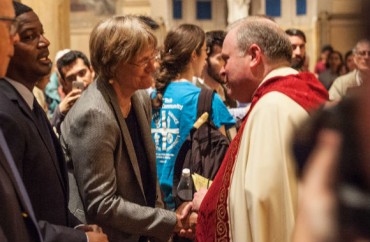 Harvard has awoken a tiger with its new rules that ban fraternities, sororities and "final clubs" from leading athletic teams, holding leadership positions and even getting endorsements for top fellowships.
The Foundation for Individual Rights in Education has started a petition campaign against Harvard's "blacklist" of students in single-sex organizations, asking President Drew Faust to "restore freedom of association" for Harvard students:
All of these organizations have been independent of Harvard since 1984, operate as off-campus entities, and do not receive any recognition or benefit from the university.

Harvard's stunning attack on its students' right to freedom of association directly undermines its core values, categorically denying students important benefits and opportunities on the sole basis of their maintaining officially disfavored private associations.
FIRE also said it is "preparing a formal response."
The policy will take effect with the class that enters Harvard in 2017. According to The Harvard Crimson, Faust told undergraduates in an email this morning:
Although the fraternities, sororities, and final clubs are not formally recognized by the College, they play an unmistakable and growing role in student life, in many cases enacting forms of privilege and exclusion at odds with our deepest values. The College cannot ignore these organizations if it is to advance our shared commitment to broadening opportunity and making Harvard a campus for all of its students.
Faust approved the recommendations of Harvard College Dean Rakesh Khurana, who has been sparring particularly with final clubs over their (heavily disputed) role in sexual assault.
Khurana has accused single-sex organizations of "discriminatory membership polices" that create "power imbalances" and "propagate exclusionary values," the Crimson said.
FIRE Executive Director Robert Shibley accused Faust of "reviv[ing] the blacklist":
This year's undesirables are members of off-campus clubs that don't match Harvard's political preferences. In the 1950s, perhaps Communists would have been excluded. I had hoped that universities were past the point of asking people, "Are you now, or have you ever been, a member of a group we don't like?" Sadly, they are not.
FIRE co-founder Harvey Silverglate, an alumnus of Harvard Law and civil-liberties attorney, was even more blunt:
Who's to say that Harvard's leaders five years from now won't decide that Catholics or Republicans should be blacklisted because they might not line up with Harvard's preferred values?
The Crimson said a " yet-to-be-appointed committee of students, faculty, and administrators will craft the enforcement strategy for the broad proposal, likely a difficult task given that many unrecognized social clubs do not publicize their membership."
Read The Crimson story and FIRE's press release, and join FIRE's letter-writing campaign to Faust.
Like The College Fix on Facebook / Follow us on Twitter
IMAGE: Roman Catholic Archdiocese of Boston/Fickr