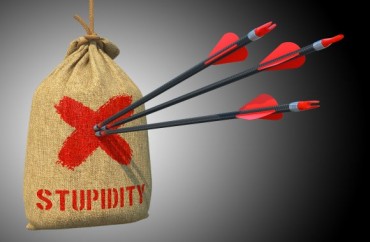 Education secretary met with protesters, criticism at Kennedy School forum
The United States education secretary was derided by protesters as a "white supremacist" during a forum at Harvard University this week.
Betsy DeVos* spoke at Harvard's Kennedy School on Thursday, where she was met with "hundreds of demonstrators gathered outside—and silent disapproval from students indoors," according to The Harvard Crimson. 
A number of those protesting DeVos's appearance hoisted "banners made from bedsheets," according to The Crimson.
Facing "repeated interruptions," DeVos was taking part in a forum titled "A conversation on empowering parents." Around 100 people attended the talk, "most of them Harvard students," The Crimson reports.
Outside the event, protesters chanted "Education is a right, not just for the rich and white!" Inside, the bedsheet-waving attendees unfurled their homemade banners, which featured epithets such as "WHITE SUPREMACIST." Near the end of the evening, protesters in the audience shouted at DeVos: ""What does white supremacy look like? That's what white supremacy looks like!"
It is unclear how DeVos constitutes a "white supremacist," or if the protesters in the audience were even clear on what that phrase means.
The secretary faced a hostile climate throughout the evening. The Crimson reports that DeVos was "press[ed] and lampoon[ed]." The paper notes one such exchange:
After one questioner said, "I'm going to assume you have good intentions," someone in the room quipped, "That's a stretch," prompting many to break into cheers, applause, and whistles.
Boston mayoral candidate Tito Jackson briefly appeared outside the event and declared that DeVos should "go right back to Washington."
According to NBC Washington, another student at the forum "asked DeVos how much she expects her net worth to increase as a result of her policies."
Read the Harvard Crimson report here.
MORE: U. Houston prof: U.S. Constitution designed for slavery, white supremacy 'forevermore'
MORE: Brown University panel: White supremacy is NOT a 'marginal, leftover fringe ideology'
IMAGE: Shutterstock
Like The College Fix on Facebook / Follow us on Twitter