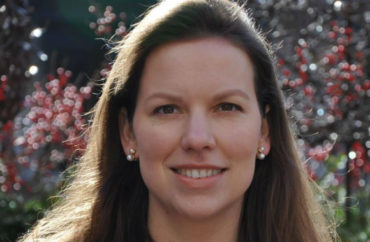 Placed on leave 'immediately'
Theresa Lund may simply be taking time off while the digital mob forgets about her viral video asking a nonwhite neighbor to quiet down her child so Lund's own kids can nap.
Or she may be on the verge of losing her job as executive director of the Harvard Humanitarian Initiative, affiliated with the Harvard School of Public Health, in response to protest threats against the initiative.
Lund's boss, Director Michael VanRooyen, released a purposefully vague Facebook statement Thursday that said she "will be on-leave, effective immediately," due to "the events of July 14th." Lund also asked her neighbor if she lived in the building's "affordable" apartments or the Harvard-reserved apartments.
VanRooyen wrote that he had viewed the Lund incident through the initiative's principles of "service, equity, and justice" and "core values of integrity, collaboration, and respect for universal human rights." The initiative "does not condone her conduct during the exchange with [neighbor] Alyson Laliberte and her family [young daughter]," he said.
The director had previously defended Lund but deleted his social media posts in response to outrage.
Everyone else at the initiative is going to be punished for Lund's unforgivable sin of asking a neighbor to show her napping children some grace – a neighbor who continues speaking at normal and even elevated volume while Lund whispers.
VanRooyen is mandating new "training and programs" around implicit and explicit bias for initiative staff, and planning to "promote diversity and inclusion within our workplace" in some new fashion.
Comments on VanRooyen's Facebook post suggest that observers are mad that Lund hasn't been fired.
"Sidewalk Susan is on leave?" one user wrote, using one of the racial slurs deployed against Lund and other white women who ask nonwhite neighbors to quiet down. "Are you kidding me ? Is this a joke? And it took you 5 whole days to come up with this phony statement? Wow! HHI is complicit !"
Another pledged to "protest outside your offices everyday till shes gone," asking the initiative to explain how "you call yourselves humanitarians while cutting her a check." (VanRooyen's statement doesn't specify if Lund's leave is paid.)
Others recommend contacting the initiative's donors to convince them to end their funding. "Every donor, every volunteer, every employee is going to be put on blast," another user wrote. "You're gonna have to go 5+ pages deep on google to find a story NOT related to this incident."
Several users on both Facebook and Twitter claimed that Lund invented her children, which is not mentioned in any reporting The College Fix could find.
One user shared a screenshot of a Faceboodk comment by a user claiming to be Laliberte's aunt, saying Lund "has no children and was hungover" when she talked to Laliberte. The Fix has not been able to find this comment, but Laliberte is friends with the woman on Facebook.
MORE: Lund disappears after viral video on 'affordable' housing
h/t Boston Globe
IMAGE: Harvard Humanitarian Initiative
Like The College Fix on Facebook / Follow us on Twitter