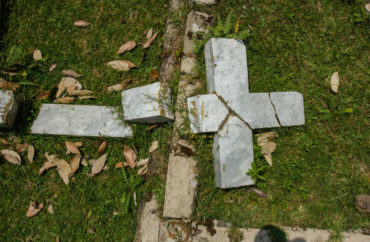 Group is 'first-ever' to be put on probation; claims dismissal was due to 'theological disagreement'
A Christian group at Harvard, under fire recently for hosting a controversial speaker at one of its meetings, was recently put on probation by the school administration after an investigation into an incident involving a bisexual group member.
Harvard Christian Faith in Action, the student organization recently accused of "homophobia" and "hate" for hosting an ex-gay Christian speaker at a group gathering, was given a year-long "administrative probation" after  it requested that one of its Bible study leaders resign, according to The Harvard Crimson.
The student, who resigned in September after the group leaders requested she do so, was in a same-sex relationship at the time. Group leaders said that the dismissal stemmed from a "theological disagreement" related to the organization's character standards.
According to The Crimson, numerous members of the group, including the woman who was asked to resign, "said they believe she was not asked to step down from her position because she is bisexual. Instead, HCFA leadership pressured her to resign because she chose to actively pursue a same-sex relationship."
While two other LGBTQ students have held leadership positions in the organization, The Crimson reports, neither pursued same-sex relationships while doing so: one was living chastely, while the other, a bisexual woman, dated a man at the time.
It is unclear exactly what HCFA's newfound probationary status entails.

[Group presidents Scott] Ely and [Molly] Richmond wrote in an email Wednesday that College administrators told them HCFA is the first-ever campus group to be placed on administrative probation. The two said they are unaware of the "full ramifications" of the designation.

[Aaron] Goldman, the University spokesperson who announced HCFA's probation, did not immediately respond to a question asking whether probation means the group will be stripped of all rights and privileges granted to recognized student organizations.

Recognized student groups enjoy several benefits courtesy of the Office of Student Life, including the ability to reserve Harvard rooms and venues as well as access to a bank account.

Traditionally, HCFA has often held its weekly Doxa events—gatherings during which members worship together—in Yenching Auditorium, a Harvard space.

Other privileges granted to recognized student organizations include the right to poster on campus and permission to participate in activity fairs, both key ways campus groups recruit undergraduates. HCFA, founded in 2008, currently boasts roughly 200 members.

In order to reverse its probationary status, HCFA must prove its compliance both with Harvard's non-discrimination policies and with "stated expectations regarding local governance," Goldman wrote in his statement Wednesday.
The group's probation comes due to the Harvard administration's having interpreted that it violated guidelines in the Harvard College Student Handbook stipulating that " recognized campus student groups cannot discriminate on the basis of 'sexual orientation.'"
MORE: Student op-ed: Ex-gay Christian speaker 'threatened' LGBT students
IMAGE: Denis Shevyakov / Shutterstock.com
Like The College Fix on Facebook / Follow us on Twitter