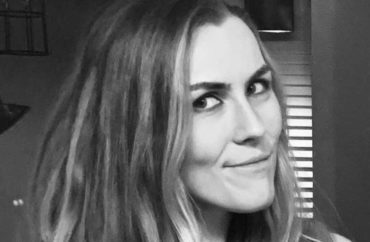 Harvard canceled Buckley's poetry and philosophy talk after discovering her affiliation with a group opposed to transgender ideology
Harvard University canceled a talk by philosopher Devin Buckley on the topic of British Romanticism due to her views on transgenderism.
The Ivy League school canceled her visit after one of the event coordinators discovered her affiliation with a group critical of transgender ideology, according to The Post Millennial. 
The university informed Buckley of the cancellation on April 18 due to her board membership with the Women's Liberation Front, which its letter called "an organization that takes a public stance regarding trans people as dangerous and deceptive."
Buckley identified the English department employee who canceled her talk as Erin Saladin, in comments given to National Review.
In a statement posted to its website April 21, WOLF wrote that it "opposes this blatantly false characterization of our work, as well as Harvard's flagrant disregard for free speech. Dr. Buckley's original talk did not have anything to do with her feminist beliefs."
It's not clear when specifically the event was to take place, but WOLF is hosting a virtual discussion with Buckley (pictured) on Wednesday.
The group opposes legislation such as California Senate Bill 132, which allows incarcerated men to be housed in women's correctional facilities based on self-declared "gender identity." WOLF has also defended sex-based rights in professional sports.
DR. DEVIN BUCKLEY DEPLATFORMED BY HARVARD 1/9 (thread)

Dr. Devin Buckley Responds to her Cancelation with an Open Letter to Harvard Universityhttps://t.co/xpXfpG1Moy#CanceledByHarvard

— WoLF (@WomensLibFront) April 21, 2022
WOLF posted the letter informing Buckley that she had been disinvited, in which a spokesperson for the department wrote:
My co-coordinator [Erin Saladin] looked you up on google to include the correct details about you on the application. She was surprised to find that your public profile is largely rooted in controversial issues regarding trans identity and that you're on the board of an organization that takes a public stance regarding trans people as dangerous and deceptive. Since you're mostly engaging in the public sphere as more of a polemicist than Romanticist, this puts the colloquium and the department and myself in an uneasy position.

My co-coordinator has refused to extend to you a formal offer to speak at our colloquium… Even if I were to push your visit past Erin, it will be near impossible to get our two faculty members to sign onto funding your visit once they learn of your online presence. Really, it's not so much because of your own personal conviction regarding trans identity. It's more about the public stance you've taken and how you've recently crafted a professional presence around these issues.
"This is not a case of Harvard refusing to platform ideas it dislikes. This is a case of Harvard deplatforming me for political reasons entirely unrelated to my scholarship," Buckley wrote.
"I was of interest to Harvard for my 'cutting-edge research,' not my women's rights advocacy," she wrote. "I had no intention of bringing up gender or feminism at a talk on the relevance of Plotinian Neo-Platonism and Vedic Philosophy to transcendent ontologies of early nineteenth century British poets."
"If it is unacceptable for me to speak at Harvard on British poetry and philosophy because I am a feminist, then I invite Harvard to purge its libraries and museums of all those who hold views unacceptable to Harvard," she wrote.
"WoLF and I have never claimed that someone is dangerous in virtue of being trans," Buckley wrote. "Rather, we have claimed that some trans-identified males are dangerous in virtue of being predators."
"We have claimed that males in women's prisons, for example, are a threat to women because they are violent males," she stated.
"Since such nuance cannot be beyond Harvard's intellectual caliber, I can only assume either that Harvard believes the abuses at women's prisons are fake news or that Harvard believes such violence against women is in some way justified," Buckley wrote.
MORE: Law school groups want Women's Liberation Front banned from job fair
IMAGE: Women's Liberation Front
Like The College Fix on Facebook / Follow us on Twitter