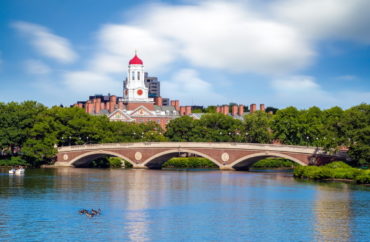 'Harvard is causing harm with our money in our name'
A student and alumni coalition urged Harvard University to pay reparations to Brazilian residents affected by its sale of farmland to a "far-right" businessman during an event Wednesday hosted by the Harvard Graduate Center of the History Department.
The Stop Harvard Land Grabs Coalition opposes land investments by the Harvard Management Company, which runs the university's endowments, and Harvard's retirement fund manager TIAA, according to the event flyer.
"This financial speculation on farmland is causing displacement of rural communities, human rights violations, and environmental destruction," the coalition states in the flyer.
During the panel event Wednesday, coalition leaders said Harvard's recent sale of farmland in Brazil hurt local residents and the university should pay them reparations, The Harvard Crimson student newspaper reported.
Rachel Carle, the coalition organizer, said affiliates of the university "have a responsibility to speak out when Harvard is causing harm with our money in our name."
Another speaker, Maria Luisa Mendonça, director of the Network for Social Justice and Human Rights, a coalition partner, said Harvard should be setting a better example with its investments.
"The Harvard endowment is being used, for the most part, to destroy livelihoods, rural communities, and to expand a very destructive type of agriculture," Mendonça told The Crimson in an interview before the event.
The coalition did not support Harvard's land investment in the Cerrado region of Brazil or its sale of the land in 2022 for $325 million, according to the coalition website.
The purchaser was Terrus, an "agribusiness company," and its owner, Ricardo Faria, has "political ties to Jair Bolsonaro, Brazil's far-right president with a terrible record of trampling Indigenous rights and accelerating deforestation," the coalition stated.
Agricultural businesses already have destroyed much of the native vegetation in the Cerrado region, and Terrus's plans for planting could make the problem worse, according to the coalition.
In a petition, the coalition demanded that Harvard "immediately begin to return land back to affected communities" and "pay reparations" to those affected by the "harms of its investments." It also called on the university to "stop all land investing."
This is not the first time the Ivy League school has been called on to make reparations.
In 2019, the prime minister of Antigua and Barbuda sent a letter to Harvard demanding it pay his country slavery reparations, The College Fix reported at the time.
MORE: Harvard issues report on school's ties to slavery, commits $100 million to 'Legacy of Slavery Fund'
IMAGE: F11Photo/Shutterstock
Like The College Fix on Facebook / Follow us on Twitter