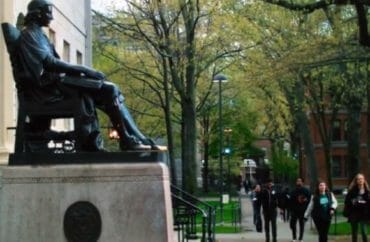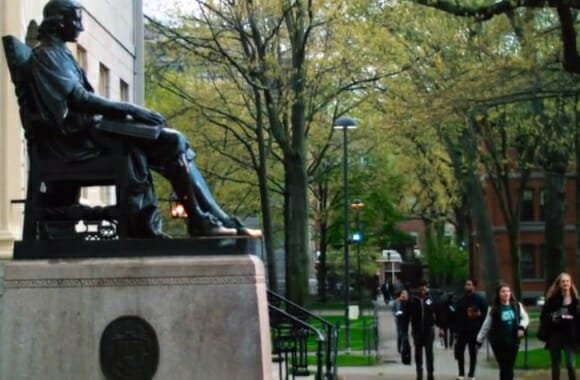 Today is #GivingTuesday. Click here to make your tax-deductible gift online. It's fast, easy and secure. As a nonprofit, we truly appreciate your support.
At Harvard University, there's a place where students can go to be intellectually challenged beyond their classroom walls. Where they can think and speak freely. Where they can learn from right-of-center speakers. Where they can truly enjoy a good old-fashioned liberal arts education.
Enter the Abigail Adams Institute, founded in 2014 and located at Harvard Square. It seeks to provide a "supplemental humanistic education to the Harvard intellectual community," according to its website.
So far so successful, say those who've interacted with the program.
Renowned conservative scholar Robert George, a Princeton University professor of jurisprudence who spoke at the institute in September on the role of humanities in higher education, told The College Fix the institute serves a vital role at Harvard. It's not merely acting as a counter-balance to leftist bias at the Ivy League school, he said. It's much more than that.
"It would be a bad mistake to think of the Abigail Adams Institute simply as providing a counterweight to left-wing bias in academia," George said via email.
"The Institute is not pushing an ideological agenda, and welcomes the full, sympathetic airing of views from across the political spectrum. It conducts business in the true currency of intellectual discourse: reasons, evidence, arguments," George said.
The institute's goal is to provide fertile ground to spark profound discussions on topics of great importance, ranging from the Western canon and the traditions of liberty to issues of economics, the arts, morality and much more.
"The formation of the Abigail Adams Institute was a collaborative effort. Faculty, students, and Harvard alumni came together, myself included, as we all saw a need for more intellectual dialogue across disciplines as well as across generations within the Harvard community," said its director, Danilo Petranovich, in an email to The College Fix.
The institute boasts a variety of programs, including "seminars, workshops, lectures, reading groups, intellectual retreats, mentoring, and more," according to its website. For example, "The Great Conversation: How Should We Live" is a weekly reading group that explores "foundational texts from Homer to Augustine."
At the seminars, distinguished speakers strive to offer deeper insights into lessons taught at the university by providing practical applications to the knowledge. Prominent speakers include scholars such as Mihir Desai educating on finance, Mark Regnerus on marriage, and Tyler VanderWeele on statistics.
"The Abigail Adams Institute is a marvelous resource for Harvard students and other[s] in the area who are interested in the pursuit of truth in the humanities and social sciences, and who welcome the robust, civil discussion of the deepest and most important questions," Professor George told The Fix.
And although George is quick to point out the insitute is not just some sort of counterbalance to leftist professors, the organization does offer right-leaning students a place to supplement their education.
Emily Hall is a conservative Harvard student who last year told The Fix that many of her professors have displayed overt liberal biases in the classroom, and often her fellow students are not willing to engage in meaningful debate.
Reached this month for comment on the Abigail Adams Institute, Hall called it "an excellent resource for conservative students on campus, as it provides academic and intellectual engagement with conservative thought for students who would not otherwise have exposure to such ideas."
Hall told The Fix via email that she has worked with the staff of the institute to plan events for the Harvard chapter of the Network of enlightened Women and she has also attended some of the events it has co-sponsored.
"I believe that its presence is very beneficial to the Harvard community, but I wish that it were more visible–too often, people who are very interested in AAI programming only learn about the institute by word of mouth," Hall said.
The institute aims to be a rigorous resource for the campus. Yet at the same time the idea is to explore the deep questions of education, careers, and life in general, all while maintaining a relaxed, enjoyable environment.
"The Institute engages both classical traditions and contemporary thought in a sustained, open, and rigorous dialogue with faculty, students, alumni, and friends," Petranovich said, adding it also strives to "take the formal assessment component out of the equation and let the intellectual questions drive the dialogue."
"AAI wants to push students towards more intellectually intense, rich, and challenging encounters," Petranovich said. "Our offerings are designed to raise existentially meaningful questions and to inspire the students to challenge themselves in intellectually ambitious ways."
George said the right leader is at the helm to help the institute achieve its goals.
"Petranovich … is a rising academic star. As a scholar of political economy, he is helping to rescue his field from the tendency to view economic issues as purely technical questions that can, in principle, be resolved without reference to considerations of morality and the human good," George said. "He understands the fact that many issues–including most of our most urgent and pressing ones–defy strict disciplinary boundaries and require scholars from disciplines to find ways to work fruitfully together. The Abigail Adams Institute is a hub of interdisciplinary scholarship."
Next month, interested parties may sign up for the institute's Summer 2018 seminars.
Today is #GivingTuesday. Click here to make your tax-deductible gift online. It's fast, easy and secure. As a nonprofit, we truly appreciate your support.
MORE: Student at Harvard fights liberal bias by launching conservative women's group
Like The College Fix on Facebook / Follow us on Twitter