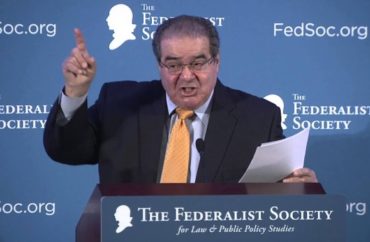 Depriving students the grounding in originalism they need to succeed
Two and a half years.
That is how long the Antonin Scalia Professorship of Law has gone unfilled at Harvard Law School, even as the administration announced this month that the first batch of the late Supreme Court justice's papers were available to the public.
A Harvard Law student who is pushing for more ideologically diverse legal clinics recently noted the contrast between the Scalia Professorship, empty since it was created in 2017, and the school's new hirings and promotions.
If the administration has an explanation for the never-filled position, it's not providing it. Harvard Law media relations has not responded to a College Fix request last week to explain what's taking so long.
Even though Justice Scalia never taught at Harvard Law, he was known for often interacting with students when he visited, first-year student Eli Nachmany told The Fix. "Filling this Chair with someone whose appointment would honor the Justice's great legacy is two and a half years overdue," he wrote in an email.
According to Harvard Law, after he graduated in 1960, "Justice Scalia often returned to meet with students, attend reunions and to judge HLS moot court competitions."
MORE: New HLS professorship to honor Scalia (eventually)
Curious absence in this 'extraordinary range of talent'
Harvard Law's announcement that it had promoted three faculty members and hired two others as of Jan. 1 prompted Nachmany to note its failure to fill the much older position, which is endowed by the Denver-based Considine Family Foundation.
The promotions to clinical and assistant clinical professor went to experts in immigration and refugee law and advocacy, food law, and legal aid. The new hires are experts in election and constitutional law and international financial regulation.
"These five outstanding members of our faculty reflect an extraordinary range of talent," Dean John Manning, who once clerked for Scalia, said in the Feb. 2 announcement. He called them "great teachers, scholars, lawyers, and public policy specialists whose diverse methodologies and approaches to a vast array of important legal issues will further strengthen our community and continue to set Harvard Law School apart."
Nachmany pointed to a curious absence in this "extraordinary range of talent."
"Congrats to these brilliant scholars, whom I have no doubt will shape the law significantly through their research and teaching," he wrote in a tweet thread. "Unfortunately, each new hiring announcement is a reminder that the HLS Antonin Scalia Professorship remains vacant."
The school announced the professorship on June 30, 2017, four months after Scalia's family made public that they were donating his papers to the law school.
"Justice Scalia had a singular impact on statutory analysis and legal thought," then-Dean Martha Minow said at the time.
MORE: Harvard Law students ask for right-of-center legal clinics
JUNE 30, 2017: HLS "announced that it has established the Antonin Scalia Professorship of Law in recognition of the historic tenure of the late U.S. Supreme Court Justice Antonin Scalia '60. The professorship is endowed by the Considine Family Foundation." https://t.co/JzygrKKfeN

— Eli Nachmany (@EliNachmany) February 6, 2020
"He also had a great love of learning, so it is especially meaningful that he will be honored with a professorship that will provide enduring support for teaching and scholarship at the Law School and beyond," she said. The professorship "stands as both a testament to Justice Scalia's legacy on the Supreme Court and as a vote of confidence in a new generation of scholars."
It has continued to stand empty in 2020, Nachmany tweeted, calling it long overdue for the school to "honor Justice Scalia's legacy and FILL THIS SEAT with someone who would make the late Justice proud."
Tagging Harvard Law's Twitter profile, he wrote: "How is this professorship still open?"
By leaving the position unfilled for so long, Harvard Law is denying its students practical benefits, Nachmany told The Fix:
Originalism is the prevailing method of jurisprudence on the Supreme Court, and is the philosophy of many lower court judges now that President Trump has remade the federal judiciary. Harvard Law School would do its students a great service by hiring originalist scholars onto the faculty, and the Scalia Chair offers a unique opportunity for the school to do that in the here and now.
"Throughout his career as an academic and jurist, Justice Scalia boldly advocated for judicial restraint and fidelity to the Framers' intentions," Jacob Richards, another first-year who has advocated for more diverse legal clinics with Nachmany, told The Fix in an email:
Appointing a professor with similar leanings would both honor his legacy and enrich the campus community, where such perspectives are conspicuously lacking.  Students of all stripes would benefit from the appointment of a prominent, committed originalist, whose scholarly engagement would broaden the scope of dialogue on campus.
MORE: Conservative, libertarian law profs demand more balanced faculties
IMAGE: The Federalist Society/YouTube
Like The College Fix on Facebook / Follow us on Twitter