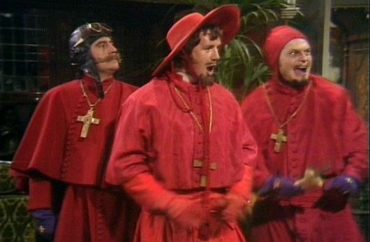 Don't worry, it's not 'intrusive'
No one expects the Harvard Inquisition!
That is, unless you saw snippets of an implementation committee's report that called for Harvard to not only punish and exclude members of single-sex clubs from a broad range of fellowships and leadership positions, but to block those students from running for office or leading The Harvard Crimson.
Dean of the College Rakesh Khurana has finally released the full 46-page report by the committee in charge of deciding how best to undermine freedom of association, and he said he agrees with practically all of it, The Crimson reports:
Under the recommendations, students starting with the class of 2021 who seek leadership positions, captaincies, or fellowships will have to sign a written statement affirming their commitment to "nondiscrimination on the basis of characteristics of 'intrinsic identity,' including gender." Students will also have to affirm they do not currently belong to an "unrecognized single-gender social organization," did not belong to one in the past year, and will not belong to one in the year after their tenure in a leadership position or athletic captaincy ends.
Sound like the House Un-American Activities Committee? We'll get to that later.
Harvard: We evaluated our peers' practices targeting Greek orgs closely
World: Can we see your results
Harvard: Surehttps://t.co/Iy0csb6n9Y pic.twitter.com/MxrAf4bRe0

— Peter Bonilla (@pebonilla) March 6, 2017
The main change: Khurana "did not accept the committee's recommendation that members of single-gender social groups be barred from leadership roles on The Crimson and the Undergraduate Council."
But this wholesale attack on campus democracy and freedom of the press still might happen when fewer people are paying attention. Khurana said those ideas deserve "further deliberation."
MORE: Harvard's anti-male committee wants to overturn campus democracy
The most stunning part of the report is how it plans to enforce compliance, and the disingenuous way it describes the method, which may explain why committee leaders refused to even give its members copies of the report while its future was in doubt:
The committee recommended that the Honor Council investigate students who violate the policy by "falsely affirming compliance," though the report emphasized that students should "not perceive the policy as intrusive or punitive."
Harvard wants students to attest in writing that they are not in final clubs–but noninvasively! Hello, Upside-Down! https://t.co/GB7PGGXcMC pic.twitter.com/CAh9xymlr6

— Peter Bonilla (@pebonilla) March 6, 2017
The Honor Council judges allegations of academic-integrity violations. It includes administrators, faculty and – yep – students who might want those coveted fellowships and leadership positions for themselves.
A spokesperson told The Crimson the Honor Council would stick to investigating those who apply for fellowships, while those who hold "organizational leadership positions" in prohibited groups will be evaluated under a "trust-based system," whatever that means.
MORE: Harvard is ready to blacklist 1 in 4 students
Ryne Weiss at the Foundation for Individual Rights in Education (FIRE) describes the council's new mission as leading "inquisitorial efforts for those suspected of fibbing when asked whether they are, or have ever been, a member of the Communist Par— I mean, single-gender sorority, fraternity, or final club":
So it looks like a modern-day version of the Secret Court is back, and this time, it's enlisting students along with the faculty and staff traditionally tasked with ferreting out those with associations too unsavory for Harvard. Given that students compete with each other for the very positions that the students on the Honor Council will have the power to deny (athletic captaincies, scholarships, leadership of student groups, etc.) this is obviously and unmistakably ripe for abuse.
Keep in mind that two days after the committee delivered its report to Khurana, the dean created a faculty review committee that had (in theory) authority to scrap or revise the very single-sex sanctions in the report.
MORE: Dean chickens out of blacklist on eve of risky faculty vote
He was probably afraid that if faculty saw the report, they would quickly quash the sanctions with their own "nondiscrimination" motion, which was slated for a vote just days later. (The motion's sponsor, former Dean Harry Lewis, withdrew it after Khurana's concession, and recently announced he's teaching only two more semesters before officially retiring.)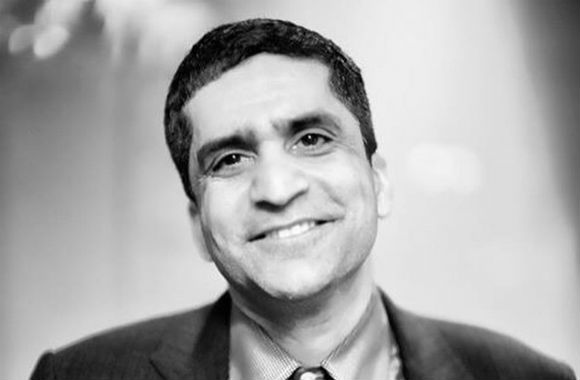 Now Khurana's conveniently timed creation of the faculty committee looks like "a dishonest diversionary tactic to kill a motion by faculty members that which would have challenged the sanctions regime" in the still-hidden report, Weiss writes:
If Harvard administrators had any kind of accountability, the use of such a tactic might pose a real problem. But given that they can apparently read faculty emails without any real consequences, that might be too much to ask.
How dare you slow our 'momentum towards greater inclusivity'
If there's one piece of black comedy in this sorry display of Harvard's most illiberal impulses, it's the implementation committee's annoyance at having to compete with a new lover (the faculty committee) for Khurana's attention.
In a section that specifically credited "student members of the committee," the report says this:
[T]he lack of clarity as well as the events of the past month, namely the formation of a new faculty committee to review this policy, have had a particularly negative effect on conversations with numerous existing stakeholders in the College's social scene. These events have fostered skepticism about the intent and commitment to the policy, discouraged those students who are supportive of efforts to transform the nature of the clubs, and undermined the confidence and progress of those groups who have already made difficult decisions to move in a more inclusive direction [by capitulating to months of threats]. Momentum towards greater inclusivity was stalled by lack of clear leadership and legitimate concerns as to whether institutional support was unstable.
Such Newspeak is just the beginning, though. As The Crimson points out:
The report also details a plan for the "dissemination of a positive narrative around the new policy," including a draft of a letter to incoming students, and "professional brochures."
You can see more about the propaganda campaign under Section C, "Communications and Benchmarking," page 21 of the report. Note the multiple references to "diversity" and "inclusion."
Committee whose recs sought to expand Harvard's anti-freedom/association policy urges college to push "positive narrative." Remarkable. pic.twitter.com/HbnHkPWL55

— KC Johnson (@kcjohnson9) March 6, 2017
The remaining single-sex clubs aren't being bludgeoned into nonexistence just yet: The report creates a "provisional social organization" designation for clubs that pledge to forsake their right to free association (and apparently their ties to national organizations).
And once more, the women are getting preferential treatment:
The report also calls for … a five-year "bridge" program for traditionally female final clubs and sororities that would allow these groups "to operate with gender focused missions" for some time after the College's policy takes effect next fall.
If you don't want to see Harvard take a step backwards to the good ol' days of communist witch hunts, sign FIRE's petition to Khurana and President Drew Faust while it might still change this Orwellian policy.
MORE: Harvard promises special treatment to women-only club
Like The College Fix on Facebook / Follow us on Twitter
IMAGE: Monty Python