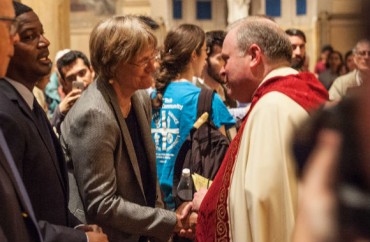 Lest anyone think Harvard University would quietly contest a lawsuit and regulatory complaints alleging discrimination at the heart of its admissions process, its president is publicly promising a "vigorous defense."
And she's using religion as her backdrop.
The Harvard Crimson reports:
Before a crowd of about 40 people at Memorial Church's morning prayers, [Drew] Faust spoke softly but firmly about an issue that could fundamentally change the way the College constructs its classes.
Faust said the lawsuit – which accuses the school of "strictly limiting" its admission of Asian-American applicants – challenges "our commitment to a widely diverse student body":
"Our vigorous defense of our procedures and of the kind of educational experience they are intended to create will cause us to speak frequently and forcefully about the importance of diversity in the months to come."
RELATED: Harvard discriminates against Asian Americans, 'similar challenges' planned
The Crimson notes that Faust historically has not used her "bully pulpit" even for public controversies, but not on this:
"The University is an institution committed to free speech—yours and everyone else's," Faust said. "In the course of the year to come, that freedom is likely to produce some utterances that we deplore. And there will be times we must speak out against them."
Think about that: The president of an Ivy League school is saying that asking a university to evaluate applicants based on their merit is equivalent to "utterances that we deplore."
The university is asking for a delay in its discrimination lawsuit until the Supreme Court (once more) hears the Fisher affirmative-action case against the University of Texas.
RELATED: Former admissions dean admits truth: 'Racial stereotyping is alive and well'
RELATED: Race Preferences, Interracial Marriage and Strict Scrutiny: The 'Fisher' Case
Like The College Fix on Facebook / Follow us on Twitter
IMAGE: Roman Catholic Archdiocese of Boston