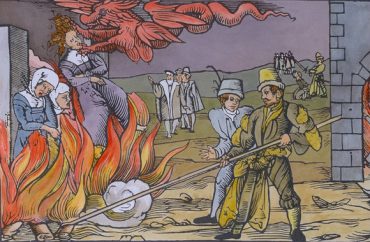 Membership in the Republican Party, Daughters of the American Revolution or Roman Catholic Church could be grounds for student punishment at Harvard University if its leaders continue on the same trajectory.
So said faculty, including former Harvard College Dean Harry Lewis, in a Harvard Crimson op-ed scolding the administration for its so-called blacklist of students in final clubs and unofficial fraternities and sororities.
Members in such groups have been subject to official discrimination by Harvard because they are single-sex organizations – hence, they have "discriminatory membership practices."
The school is reaching back to "the Puritan era" to regulate "the beliefs and associations of its students," who are currently denied leadership slots, team captainships and endorsements for fellowships if they belong to single-sex organizations, says the op-ed.
MORE: Petition demands Harvard dump its new rules against single-sex clubs
The faculty – Computer Science Profs. Lewis and Margo Seltzer, Government Prof. Eric Nelson and Classics Prof. Richard Thomas – ridicule Harvard's cited correlation between final club "participation" and sexual assault rates to justify the blacklist:
Of course, this correlation does not imply that clubs cause sexual assaults. It suggests only that students who have attended a final club party (the report's definition of "participation") are more likely than their non-"participating" peers to experience sexual assault somewhere, sometime. The new policy is not the obvious response to this unsurprising finding—and indeed, is not among the report's specific recommendations. Reducing sexual assaults on campus—and especially in the Houses, where most take place—requires thoughtful discussion and hard work. The policy encourages neither, and is less likely to reduce sexual assault than to cultivate the illusion of decisive action.
There's no reason to think Harvard won't see other associations as contrary to its "values" in the near future, and punish students for such memberships, they write:
How many other associations to which students belong might be judged, with equal or greater plausibility, to be hostile to Harvard's "values of non-discrimination"? What of the undergraduate who joins a lobbying organization that opposes gay marriage or one that combats affirmative action programs in higher education?
MORE: Sexual-assault task force recommends getting rid of male-only clubs
Students have already asked faculty, who were left completely out of the loop in the development of the blacklist, if they should hide their "religious or political convictions" if, say, they are up for a fellowship, the op-ed says:
The new policy would likewise set the stage for new forms of political litigation on campus. Right to Life groups would claim that students working for Planned Parenthood promote discrimination against the unborn, while pro-choice advocates would insist that pro-life organizations champion discrimination against women. Pro-Palestinian and pro-Israeli students would swap claims of ties to groups practicing ethnic discrimination.
The logic of Harvard's attack on students whose associations violate its "values" can't be segregated from faculty, either:
Academic freedom is well and good, the argument would go, but when we decide whose research to support or whom to appoint as dean or department chair, shouldn't Harvard's fundamental values count at least as much as they do when the presidency of the Chess Club is at stake? Why should faculty seeking advancement get away with connections to organizations that are judged to be hostile to "our values"?
MORE: Women-only clubs don't have to accept men – just say you do
Like The College Fix on Facebook / Follow us on Twitter
IMAGE: Everett Historical/Shutterstock