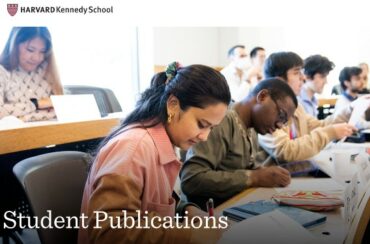 'The journals operate like wasteful, disjointed class projects that no one reads,' one student reportedly said
Students at Harvard's public policy school called on the university to preserve the  "AntiRacism Policy Journal" and 13 others that will be merged into one publication.
Many of the journals for which the Harvard Kennedy School students are fighting have been defunct for months or years. The Gender Policy Journal website lists its latest "edition" as "Spring 2023," and its last post was in May. The Human Rights Policy Journal has not posted to its website since 2018, a College Fix review on Sep. 30 found.
The former co-editor-in-chief of the Asian Policy Review, Riva Yeo, said she will not pursue any position with the planned consolidated journal.
"The Shorenstein Center is fighting with students for editorial control over student publications when it should be advancing important stories," Yeo told The Crimson. 
The College Fix reached out via email to Yeo for comment and received an initial response stating she would offer remarks at a later date. She has not responded to questions.
The future faculty advisor of the new journal, HKS Student Policy Review, explained the Kennedy School's decision to consolidate in an email to The Fix.
"The former websites were difficult for students to use—past editors reported that it could take three hours to post a simple story," Shorenstein Center Director and Professor Nancy Gibbs said. "We are hoping that in addition to traditional text, students will take the opportunity to explore audio, video, data visualization and other methods of presenting information in compelling ways."
The new journal will be an online publication, so students can reach wider audiences. The original, print-based journals had varied circulations from year to year, Gibbs wrote.
The new journal's first year will be a time for students to "explore different approaches to editorial structure" and determine how the publication will function from then on, Gibbs told The Fix.
The new website for the HKS Student Policy Review should be available by the end of September, Gibbs said.
An open letter from students affiliated with the Shorenstein Center on Media, Politics and Public Policy at Harvard Kennedy School stated the decision to merge the student journals was made "'unilaterally," The Harvard Crimson reported. The Center made its decision "without opportunity for notice or comment from the undersigned journal leadership, or from students or alumni more broadly.'"
The Gender Policy Journal, The LGBTQ Policy Journal, the African American Policy Journal and the AntiRacism Policy Journal are among the publications to be shuttered, though they are still listed on the Shorenstein Center website.
Shorenstein Center Executive Director Laura Manley told The Crimson that "'many other students…actually strongly advocated for change.'"
Manley quoted one student who told her in an email that "'The journals operate like wasteful, disjointed class projects that no one reads,'" according to The Crimson.
MORE: Harvard students continue 'fight' for ethnic studies 
IMAGE: Harvard Kennedy School
Like The College Fix on Facebook / Follow us on Twitter