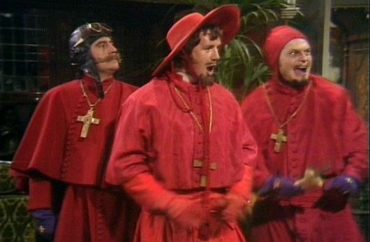 Freedom of association is dead at Harvard if its leaders accept the recommendations of its single-sex organization review committee.
A report dated July 5 and released this morning proposes punishing students who belong to all social organizations that are "private" and "exclusionary," regardless of their gender makeup.
This is a dramatic expansion of an earlier committee's proposal to blacklist members of single-sex organizations from leadership roles and academic fellowship recommendations, and enforce it with a quasi-snitching system.
The review committee – which was initially expected to pull back on the blacklist idea, but ended up being chaired by an official who pushed the blacklist – says Harvard should have banned all social organizations "when the residential housing system was established in 1930":
Peer institutions that have restricted students from joining fraternities, sororities and
similar organizations include Amherst, Bowdoin, Middlebury, and Williams. Many
coupled these restrictions with their new development of residential housing.  …

The motivation behind the recommendation of such a policy is to create a social and educational environment in which final clubs and equivalent organizations would cease to have a pernicious influence on undergraduate life. Social life would return to the houses and other common spaces on campus.
MORE: Harvard orders students to spy on each other
The committee wants Harvard to adopt elements of the anti-freedom of association policies long observed by Williams College and Bowdoin.
The former reserves the right to suspend or expel students who belong to unapproved organizations (enacted before Williams became coed), while the latter promises that members of "selective-membership" organizations will be "dismissed permanently."
The committee suggests nonspecific "disciplinary action" be taken against members of organizations that are "exclusively or predominantly" composed of Harvard students, with all such clubs phased out by May 2022.
It quotes a letter from a student who joined a male-only final club, who explains why simply mandating coed status on all clubs could be even worse:
At the time, I tried to push for us to accept women. Maybe, then, if women were present, some members would refrain from making sexist jokes. Maybe the culture would improve. In retrospect, I think my efforts were misplaced. The notion that whether final clubs go co-ed is the key question now strikes me as absurd. …

In the status quo, a woman not invited to a male club's punch does not think this means she isn't "cool" enough. … No women were invited, so it can't just be about her. To a man who isn't invited, however, it will inevitably feel personal. …

A system of co-ed final clubs would simply expand the number of people whose self-confidence and sense of self-worth suffer as a result of social exclusion.
MORE: Harvard is ready to blacklist 1 in 4 students
The report says a "small minority" of the committee argued against any blacklist or sanctions on students who belong to either single-sex or coed clubs, but rather advocated that city police "be more heavily involved" in responding to violations of the law by Harvard social organizations:
Those critical of this proposal to have no formal policy on the [single-sex organizations] wondered why the College should wait for more—or more egregious—violations of the law to take place before taking action.
The lone dissenter on the committee, Prof. David Haig, tells the Foundation for Individual Rights in Education he's not sure whether faculty would be offered the chance to approve the recommendations, rather than just comment on them, before it goes to President Drew Faust and Arts and Sciences Dean Mike Smith.
Haig's dissent makes clear that his peers want to punish coed groups, and that he doubts their draconian preferences will make Harvard more inclusive and less discriminatory.
He blasts this committee and previous bodies for relying on "selected comments of
students opposed to the clubs" instead of "quantitative unbiased data on student opinions."
The best estimate of student views of the clubs is last year's low-turnout student referendum, where opposition to the blacklist outperformed support by 2 to 1:
There is a disconnect between these numbers on student opinion and the general tone of this committee's report which emphasizes deep unhappiness among students with the social environment created by the clubs …

There is no doubt that some students, faculty, and deans find the clubs deeply offensive but well-informed social policy requires knowledge of the full-range of student opinions.
The Harvard Crimson reports that the committee will have "open discussions with faculty" about both the existing single-sex blacklist – set to take effect with this fall's incoming class – and its recommendations for punishing all groups.
The Crimson notes the new committee made one recommendation that seems responsive to criticism about the previous committee's recommendation that Harvard's Honor Council, which includes students, investigate violations – a likely conflict of interest.
The report released Wednesday recommends investigations by the Administrative Board, a purely faculty organization.
Read the report, FIRE's post and Crimson report.
MORE: Harvard promises special treatment to women-only club
Like The College Fix on Facebook / Follow us on Twitter
IMAGE: Monty Python screenshot