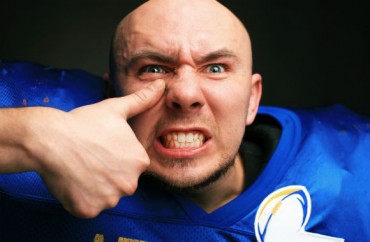 A better way for Asian-American applicants to get in
The critically acclaimed (i.e., low-rated) sitcom 30 Rock featured many jokes at the expense of Harvard and its alumni, but one episode mocked Princeton for its athletics.
When fictional showrunner Liz Lemon tells NBC executive and Princeton alum Jack Donaghy that "Princeton football" is an oxymoron, he replies: "We were four and three in Ivy League play last year. Our quarterback Henry Chang… It doesn't matter."
The joke is that Princeton is so bereft of stereotypical athletic talent that it gave an Asian-American guy – rarely associated with American sports – the most prestigious position.
Going back to Harvard with this, it turns out that the best way for applicants of Asian background to get into Harvard is probably via athletics.
The Harvard Crimson has been following the document dump from the race-discrimination lawsuit against Harvard by Asian-American applicants, which revealed a curious Office of Internal Research report.
You are five times more likely to get into Harvard with the "highest or second-highest academic rating" on Harvard's internal admissions scale if you're an athlete. Seriously: 83 percent vs. 16 percent for non-athletes.
One researcher hired by the plaintiffs found that recruited athletes with an academic rating of 4 (on Harvard's 1-6 scale, with 1 being the best) had an acceptance rate nearly 1,000 times greater than non-athletes with the same rating. That's 70 percent vs. 0.076 percent.
MORE: Court forces Harvard to publish confidential admissions docs
Liam Warner at National Review is baffled by these figures because it's "not apparent" why Harvard is so eager for athletes:
Unlike at athletic powerhouses such as the University of Alabama, ticket sales are not a major source of revenue. In the 2015 season, for example, the average attendance at a Harvard football game was 12,799. The Harvard Stadium, however, seats 30,323.

Nor does Harvard's goal seem to be winning national championships, at least not in most prominent American sports. The winningest team lately has been women's squash. For football, the Ivy League has not taken part in any post-season play since the 1950s because the post-season schedule conflicts with final exams in December.
The Ivies are Division I schools but they act more like Division III schools, with no athletic scholarships or red-shirting, and it's not even clear that Harvard (unlike Stanford) is seeking athletically talented athletes, Warner writes:
If you don't especially care about winning titles, why recruit athletes at all, let alone admit them at such a high rate?
If Asian-American applicants want a fair shake at getting into Harvard, maybe they should take up sports.
Their parents might think it's a waste of time, given physiological differences that could put the average Asian-American athlete at a disadvantage to a non-Asian athlete.
But if the acceptance rate ends up varying little for applicants of all ethnicities and races, boom – you're in Harvard. And if it doesn't and Asian-American athletes fare just as poorly as their non-athlete peers, there's the next race-discrimination lawsuit.
And that would be a really fun one to cover when legal discovery gets started.
MORE: Harvard slurs Asian Americans to protect its privilege
IMAGE: Yaroslav Kazakov/Shutterstock
Like The College Fix on Facebook / Follow us on Twitter