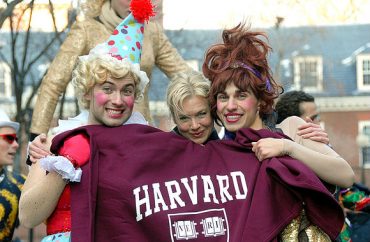 How long before Harvard University starts officially discriminating against its celebrated Hasty Pudding Theatricals for its all-male cast?
The Harvard Crimson reports that the theater troupe, known for its "no-holds-barred burlesque" drag performances with a lineage dating back to 1795, is the next target for those who want to eliminate single-sex organizations for Harvard students.
But in this case, the immediate pressure is coming from the troupe's own alumni – "at least" 86 so far who have signed a coed petition:
The list of signatures was presented to the undergraduate and graduate boards of the Hasty Pudding Theatricals, according to an email sent by former Theatricals cast Vice President Ethan D. Hardy '14, who declined to comment for this story.

MORE: Faculty warn Harvard is returning to 'the Puritan era'

In his email on Sept. 9 detailing the progress of the petition, Hardy wrote that he "demanded a clear plan be laid out to address this issue in a way that includes our perspectives, to show that they are not letting this fall by the wayside as they did this past year. It is still unclear what proceeding days and weeks will bring, though a call has been scheduled."
To shame Hasty Pudding Theatricals into accepting women in the cast – they are already involved in writing, technical and business aspects, and the troupe's president is a woman – more than a dozen women auditioned for the troupe's annual show last week, with none receiving callbacks, according to The Crimson. Last year, 17 women auditioned.
Troupe spokeswoman Erica Sunkin told the paper that the decision to remain an all-male cast "is an artistic decision."
MORE: Petition demands Harvard dump its new rules against single-sex clubs
The troupe's alumni include four presidents, current and former governors of Massachusetts and several current entertainers, including actress Rashida Jones, who co-composed the score for one year's performance.
It's not clear whether Hasty Pudding Theatrical cast members are subject to sanctions imposed on unrecognized single-sex organizations by Harvard College Dean Rakesh Khurana and University President Drew Faust this spring.
MORE: Women-only clubs don't have to accept men – just say you do
MORE: Sexual-assault task force recommends getting rid of male-only clubs
Like The College Fix on Facebook / Follow us on Twitter
IMAGE: Everett Collection/Shutterstock