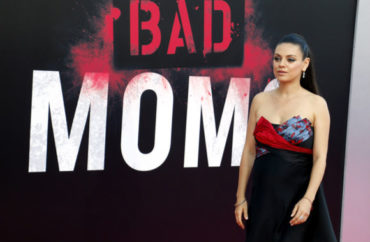 'I wouldn't be here otherwise'
Harvard's Hasty Pudding Theatricals, known for its burlesque drag shows, has featured an all-male cast since its beginning in 1844.
The troupe itself is coed, however: The current president is a woman, and women serve in every noncast role.
Women who have auditioned for the cast in a bid to shame the organization have griped that this system isn't fair, and sought to force a change. But it took a threat from a celebrity known for bawdy female comedies to convince the troupe to go coed.
The Harvard Crimson reports that the troupe announced at its Thursday roast for Woman of the Year that it will accept women as cast members starting this fall.
Mila Kunis, who played a spoiled teenager on That '70s Show and a libertine mother in the Bad Moms movies, had threatened to be a no-show for her own award:
Kunis, speaking at a press conference after the roast, said her decision to attend the day's celebrations was contingent on the Pudding's choice to go co-ed.

"I'm here," she said. "I wouldn't be here otherwise."
MORE: Petition demands cross-dressing burlesque troupe add women
After an exuberant parade marked by a surprise announcement, actress Mila Kunis received the annual Woman of the Year Award from Hasty Pudding Theatricals on Thursday afternoon. https://t.co/Jt7nPRBslO

— The Harvard Crimson (@thecrimson) January 26, 2018
The actress, also a liquor spokesperson, was facing pressure to boycott the ceremony from editorialists who called the troupe a "sexist throwback" and accused it of "using women as a punchline" rather than using drag as an "important form of gender and artistic expression." (In other words, the LGBTQ community culturally appropriated drag.)
Kunis unconvincingly downplayed her role in the social engineering of the 174-year-old club, saying she did not "stimulate" the social engineering, which was "something that was going to happen inevitably." Actor Paul Rudd was also under pressure to boycott his Man of the Year ceremony.
It's hard to accuse Hasty Pudding, which also includes a social club and a capella group, of deep-seated misogyny. As President Amira Weeks noted Thursday, it was "the first social institution at Harvard to go co-ed," and women have long played leading roles behind the scenes.
MORE: Harvard votes to discriminate against all-men, all-women clubs
Photo essay: Mila Kunis, riding in a black car with the Hasty Pudding Theatricals president Amira T. Weeks '18 and cast vice president Jacques Berguig '18 by her side, paraded down Massachusetts Avenue as Hasty Pudding's 2018 Woman of the Year Thursday. https://t.co/RDg95dTrHn

— The Harvard Crimson (@thecrimson) January 26, 2018
According to the Associated Press, Kunis also denied the troupe was a "male-driven organization" and said "most" of it is composed of women, just not the performers.
When it faced a petition to go coed last year, the troupe's (female) spokesperson said it remained all-male as an "artistic decision."
Hasty Pudding also faced possible punishment for its all-male cast under rules approved by Harvard last month that penalize members of single-sex organizations, in the name of "inclusivity."
It showed less courage than three Harvard sororities who are flouting the coed mandate by pointedly refusing to recruit men.
Women who previously auditioned for the cast as a publicity stunt are promising to audition again this fall, according to the Crimson. Seventeen of them tried out in September 2015 for its spring production in a bid to publicly shame the troupe for rejecting them – a tactic repeated in 2016 and 2017.
Read coverage in The Crimson and AP. To see photos from the socially just award show, visit Harvard's public relations magazine.
MORE: Harvard sororities give the finger to rules against single-sex clubs
IMAGE: Tinseltown/Shutterstock
Like The College Fix on Facebook / Follow us on Twitter