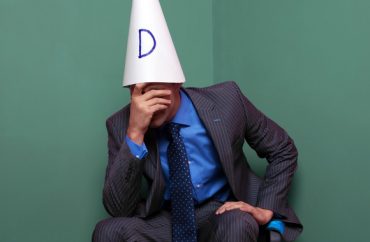 Today, final clubs in the cross hairs; tomorrow, Muslim students
British journalist Toby Young wrote a hilarious and cautionary memoir back in the day about how to blow your opportunities, as he did when he got hired by Vanity Fair and made a lifelong enemy out of Graydon Carter.
It's called How to Lose Friends and Alienate People, and it was made into a middling film starring Shaun of the Dead co-star Simon Pegg.
For the past several months Harvard has done its doggone best to lose friends and alienate people, forcing an illiberal version of social justice on its single-sex clubs, seemingly to prove that it's not a playground for the elite or a hotbed of rape culture.
The University of Pennsylvania is considering similar sanctions against its unrecognized student social clubs, and it's scaring the hell out of The Daily Pennsylvanian editorial board. (Penn has a "green light" rating from the Foundation for Individual Rights in Education; Harvard, a "red light.")
In an editorial that should make Harvard's de facto king hang his head in shame, the Daily board lays out why Penn should ignore everything its Ivy League peer has done.
Such as:
Promising to discriminate against students, with no faculty input

Violating their "associational rights"

Immediately agreeing to adopt the implementation committee's recommendations, which were even broader and more punitive than initial suggestions

Having its president immediately endorse the committee's recommendations

Creating a "faculty review committee" that it planned to ignore from the start

Putting the dean in charge of that review committee, which might otherwise overrule him
The Daily board says:
In our view, the haphazard process and divisive results at Harvard provide Penn with a near-perfect example of how not to proceed with its own examination.
EDITORIAL| The Penn administration should learn from Harvard's mistakes and respect students right to associate. https://t.co/ZaUfw7qVmP

— Daily Pennsylvanian (@dailypenn) March 22, 2017
There are a host of actions Penn can take to thoughtfully consider the role of unrecognized social clubs in campus life, according to the board.
Beyond having "early, frequent and meaningful engagement with a broad cross section of constituencies," Penn leaders should keep their mouths shut for a while:
[Harvard College Dean of Students Rakesh] Khurana and [University President Drew] Faust have, in public, been shockingly and embarrassingly dismissive of the chorus of voices — including former administrators, faculty, students and outsiders — who have expressed serious concerns with their proposals. Instead of engaging in good faith with these critics, they have circled the wagons and doubled down on their own preferences. This is no way to govern.
The board saves its harshest vitriol for Khurana and Faust's justification for the sanctions:
[The belief] that Harvard has the right to impose sanctions against students who join unaffiliated groups whose practices with regard to gender do not align with its values … is pernicious in its potential scope and applications. There is little in Harvard's stated rationale for the policy that would preclude the punishment of students who belong to religious groups that treat the sexes differently for purposes of worship.
This appears to be a reference to Muslim students, as worship is typically segregated by sex in Islamic practice. In other words: Harvard is run by Islamophobes.
And the coup de grâce:
The search for true justice and the struggle to bring the world into line with it are not solitary endeavors. If a student decides that their educational journey is best served by a single-sex social club, or a church that separates men and women during worship, or a progressive political club that excludes conservatives, Penn ought not to punish them for that choice.
If only The Harvard Crimson editorial board were so thoughtful. Unfortunately, it's a rubber stamp for a grossly illiberal administration.
Staff editorial: The implementation committee's report contains many promising ideas to revamp campus social life. https://t.co/shVFT1wstb

— The Harvard Crimson (@thecrimson) March 20, 2017
Like The College Fix on Facebook / Follow us on Twitter
IMAGE: RTimages/Shutterstock