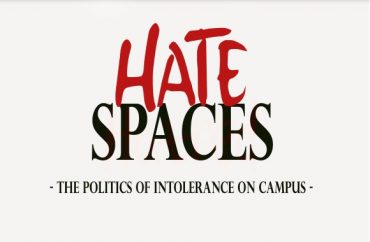 Film shows the 'normalization of hatred in the name of social justice'
Anti-Semitism on college campuses and the failure of university leaders to address it is a major "scandal" in higher education, Ralph Avi Goldwasser says. He wants others to be aware of it and a new film he created allows an inside look at the problem.
In November, Goldwasser and Americans for Peace and Tolerance released a documentary called "Hate Spaces: The Politics Of Intolerance On Campus," a feature-length film spotlighting anti-Semitism on America's college campuses.
The documentary digs into "the on-going academic de-legitimization of Israel, the normalization of hatred in the name of social justice, and massive donations of Arab oil money to universities," according to its website.
In a phone interview with The College Fix, Goldwasser, the film's executive producer, director and writer, said the documentary is about the lack and denial of truth on campuses and the failure of higher education leaders to address the problem.
"The goal of the film is to change the situation," he said, adding that informing others on the scandal and corruption in higher education is not a task the mainstream media undertakes.
"In our opinion, it's a scandal. It's a scandal, despite all the attention to inclusion, diversity, all those nice words, when it comes to Jewish students who support Israel, there's no inclusion. They are excluded," Goldwasser said.
He isn't a newcomer to exposing this "scandal." A son of holocaust survivors, Goldwasser's long been involved in pro-Jewish, pro-Israel movements. More than a decade ago, he co-founded The David Project, an organization that trains Jewish students to advocate for Israel.
He was the executive producer of "Columbia Unbecoming" and "Northeastern Unbecoming," which documented hostility toward Jewish students at the two East Coast institutions.
For Goldwasser, film became an effective medium to address the issue. While the previous films garnered attention, he said campus intolerance has persisted and intensified.
"The situation continued to deteriorate which is why we did [Hate Spaces]," he said. "We did the documentary to educate the public, Jewish leaders, civic leaders, university leaders about what's going on."
The film includes examples of anti-Semitism at numerous universities. It references reporting from websites like The College Fix, The Washington Free Beacon and Truth Revolt.
Highlighted in the film are incidents such as when pro-Israel students were arrested at Ohio State University and Students for Justice in Palestine members at Loyola University Chicago insulted their Jewish classmates.
"Campuses have been radicalized. The faculty has been radicalized, which in turn radicalizes students," Goldwasser said.
He added that campuses are unpleasant for any students who don't accept the progressive ideology, which he said includes "anti-Israelism, which is part of the anti-Judeo Christian dimension of progressives, [which is] part of the anti-American dimension of progressives."
Speakers in "Hate Spaces" include prominent scholars like Harvard Law School's Alan Dershowitz and Cornell's William Jacobson. Wall Street Journal columnist and editor Bret Stephens and The Jerusalem Post's Caroline Glick also provide commentary.
The film debuted in November in New York City, and has since been screened at multiple locations over the past few months and to a variety of Jewish audiences.
"People are upset. People are angry," Goldwasser said of reactions to the documentary. "They don't understand how this can be happening in America."
He said there's some anger at Jewish leaders for failure to deal with this problem efficiently and for being focused on social justice issues for non-Jews but ignoring the plight of Jewish students.
The documentary has received favorable reviews. Andrew Harrod wrote in FrontPage Magazine that "a good place to start with defeating Israel's campus enemies is watching Hate Spaces."
Jerold Auerbach, professor emeritus of history at Wellesley College, wrote in The Times of Israel that the documentary "reveals a dismaying academic paradox."
"After decades of exclusionary quotas and discriminatory practices targeting Jews had finally subsided, replaced by pledges of 'diversity and inclusion,' Jewish students — especially those who support Israel – are routinely targeted for denigration and intimidation," Auerbach said.
In the near future, Goldwasser said "Hate Spaces" will be made available on DVD and online. However, he prefers the current screenings. The documentary team hopes to host more screenings in the future, especially on college campuses.
"Right now, we think it's important and we've been successful in holding screenings where people come together to watch it on the big screen, where people can ask questions, they can meet other people who share their concerns. This is very effective," he said.
MORE: 'Ending White Privilege Starts With Ending Jewish Privilege' fliers hung at U. Illinois-Chicago
Like The College Fix on Facebook / Follow us on Twitter