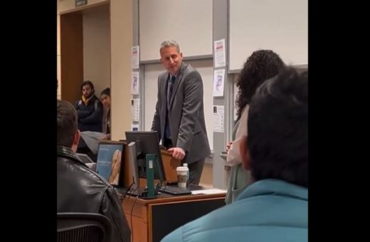 Not every noise is worthy of protection
Censorship by mob disturbance on college campuses is not the exercise of free expression protected by the First Amendment, and administrators should not defend it as such.
Nico Perrino, executive vice president of the Foundation for Individual Rights and Expression, made this important distinction in a recent op-ed in the Los Angeles Times.
"Some now argue that drowning out and shutting down speakers is an exercise of 'more speech,' not an attempt to carry out a 'heckler's veto' on the speaker," Perrino wrote.
"Depressingly, 62% of college students say that shouting down a speaker is acceptable to some degree."
However, "shouting down speakers is just like any other form of censorship: It's the few deciding for the many what they can hear," Perrino wrote.
Some have asserted otherwise.
"Shouting at political figures is our most protected speech right," read the subhead to an article published in The Nation in March, referring to the Stanford Law School incident when protesters shouted down Fifth Circuit Judge Kyle Duncan.
The author, Elie Mystal, did not argue that position. The essay is no more than a character denunciation of Duncan and speculation about the political motives the judge might have had for participating in the event.
Moreover, it misleadingly substitutes the idea of "shouting at," which may indicate a real, if heated, exchange of ideas, for shouting down, which is what the students did. Their aim was to disrupt the event, not engage with the speaker.
The Nation isn't alone in asserting without argument that heckling is free speech. Some Stanford students also made the claim.
"'It's called protest,' one Stanford student remarked to Judge Kyle Duncan," FIRE Vice President Perrino wrote. "It's under the 1st Amendment," the student said. "I thought you knew about the 1st Amendment."
Later, more protesters covered Stanford Law Dean Jenny Martinez's classroom with fliers reading, "We have free speech rights too," and, "'Counter-speech' is free speech."
Perrino is right that verbal disruptions are not free speech, but not just because they effectively censor. While the First Amendment doesn't say exactly what is meant by "freedom of speech," historically judges have interpreted it to mean the right to express ideas and information.
James Madison introduced his original version of the First Amendment in the Bill of Rights in 1789 as follows: "The people shall not be deprived or abridged of their right to speak, to write, or to publish their sentiments; and the freedom of the press, as one of the great bulwarks of liberty, shall be inviolable."
But "sentiments" in this context refer to feelings or ideas, not disruptions, vocal or otherwise, intended to drown out or cancel someone else's ideas. In Madison's 18th century, "sentiment" was a word that commonly meant a "higher feeling, a thought colored by or proceeding from emotion," according to the Online Etymology Dictionary.
The philosopher John Stuart Mill defended the principle of free speech in his famous work "On Liberty" by arguing against "the peculiar evil of silencing the expression of an opinion." For Mill, free speech meant "opinion," not noise.
Even more, American court precedent has firmly established that the American freedom of speech doesn't mean the legal right to make any noise in any context.
The First Amendment right to freedom of speech does not include, for example, the right to "incite lawless action," as determined by Supreme Court case Brandenburg v. Ohio in 1969.
It does not even include the right to "make or distribute obscene materials," as ruled by Roth v. United States in 1957. Both kinds of vocal or written actions can be limited by the state and certainly by a college administration.
To dress up a mob bent on drowning out a speaker's voice as a group asserting its constitutional rights is to abuse the concept of free expression as the courts and the American philosophical tradition have defined it.
Noise is different from speaking. Force — including forced silencing — is not an argument. Force and noise block community and truth-seeking; argument and speech advance it.
Lawmakers and college administrators have an obligation to uphold the difference.
MORE: College protesters disrupt free speech event with expletives, conga line
IMAGE: Stanford Law
Like The College Fix on Facebook / Follow us on Twitter