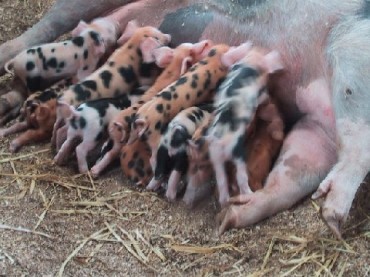 Earlier this year, Ohio State University used a $387,000 National Institutes of Health grant to study the benefits of Swedish massages on bunny rabbits. But there's more – a lot more – where that came from.
Every year, the U.S. government funds dozens of stupid pet-projects at universities on the taxpayers' dime, and Republican Sen. Tom Coburn compiles all that waste and abuse in his annual "Wastebook." His 2014 edition chronicles 100 dumb, unnecessary and low-priority projects that cost taxpayers $25 billion and exposes D.C.'s upside down priorities, Coburn notes.
Among those 100 projects are studies at universities that were pointless or a complete waste of time and money:
Cardio for mountain lions – University of California-Santa Cruz
At the University of California-Santa Cruz, professor Terrie Williams was awarded an $856,000 research grant by the National Science Foundation to study mountain lions on treadmills.
Researchers said the study is "likely to greatly inform public knowledge and opinion of large mammal behavior and conservation." The study, which taught three mountain lions to walk and run on a treadmill, also designed a special collar to measure the "power of the pounce" in the hunting habits of mountain lions in the wild.
The study concluded that "mountain lions do not have the aerobic capacity for sustained, high-energy activity." Rather, "they are power animals. They have a slow routine walking speed and use a burst of speed and the force of the pounce to knock down or overpower their prey," one researcher said.
Who would have thought?
Bored Monkeys like to gamble – University of Rochester
An ongoing study at the University of Rochester found that monkeys love to gamble and play video games, Wastebook reports.
The study, funded by the National Science Foundation, contributed $171,361 to create a computerized game to woo monkeys attention and explore their addictive chance-taking tendencies. Three games were designed, "two with clear patterns … and a third in which the lucky pick was completely random"
where the monkeys were able to pick up on the patterns. "But in the random scenarios, the monkeys continued to make choices as if they expected a 'streak.' In other words, even when rewards were random, the monkeys favored one side. The monkeys showed the hot-hand bias consistently over weeks of play," the study says.
From the study, Rochester researchers were able to conclude monkeys share humans' belief in winning and loosing streaks. Perhaps the study will even "provide nuance to our understanding of free will" or "inform treatment for gambling addiction," as the researchers posit.
Synchronized swimming sea monkeys – Cal Tech
Can Sea Monkeys be trained to do loop-the-loop and other tricks by following light? "With the financial support of three government agencies, researchers put these claims to the test and essentially choreographed a laser guided synchronized swim team of Sea Monkeys as part of a study to measure the swirl created by their collective movements," the Wastebook reports.
A professor at California Institute of Technology, who contributed to the study, pointed out how difficult it is to get Sea-Monkeys to swim in patterns. "It turns out that the collective swimming motion of Sea-Monkeys and other zoo- plankton—swimming plankton—can generate enough swirling flow to potentially influence the circulation of water in oceans," the study claims. This study was funded by a $307,524 grant from the National Science Foundation, the Office of Naval Research, and the U.S.- Israel Binational Science Foundation.
One can test their own hypothesis in their dorm room, buying a Sea-Monkey kit for around $12, according to Wastebook.
Penn State morale-booster study – Penn State
A study by Penn State University, partially funded by the feds, will examine the shame of their university's employees in light of the Jerry Sandusky child molestation scandal and cover-up.
A $41,000 grant from the National Science Foundation will help to pay for the study that will also examine how to "protect employee well-being in organizational settings where, too often, there is negative media and scandal." Special focus of the study will be about "when pride becomes shame."
"While it is a good thing for everyone to learn from the school's mistakes and to protect students and employees who are not responsible for the inappropriate actions or inactions of others within an organization," the Wastebook explains, "taxpayers should not have to subsidize the school's self-reflection in scandal and shame."
Dire voicemails from the future – Columbia University
Part of a $5.2 million grant to Columbia University (from the National Science Foundation – surprise, surprise) will go toward the development of an interactive game aimed at engaging people to get involved in climate change activism.
The game, called FutureCoast, reveals voicemails from the future that explains potential post-apocalyptic results stemming from climate change. "FutureCoast is a 'collaborative game' set in an alternative world where fictional voicemails have been transported back in time – cased in pieces of circular plastic called 'chronofacts'," the Wastebook explains, "allowing people to listen in on what earthlings from the future say about the climate."
Participants play by discovering chronofacts that are stashed at hidden locations around the country, sometimes also being revealed on social media so participants can go searching. Once found, players load the found chronofacts to an online site that reveals a new voicemail.
The Wastebook also describes some examples: "One message describes sunny 75 degree weather in Antarctica compared to a chilly -2 degrees in Arizona with expected hailstorms. In another message, someone talks about how Washington, D.C. was hit with ten feet of snow. A different character leaves a voicemail about rioting over food shortages and rationing across the country."
Because nothing says "you better be afraid of climate change" like an "interactive game" with post-apocalyptic consequences.
And on and on 
For those who want to put their eyeballs through more torture, the Wastebook list continues with:
Laughing Classes – UCLA and Butler
NASA study on end of civilization – University of Maryland
Facebook for fossil enthusiasts – University of Florida
"Get Fruved" college veggie campaign – University of Tennessee
Wikipedia gender bias – Yale and NYU
Meanwhile, the national debt clock stands at $17.3 trillion, and counting.
College Fix reporter Derek Draplin is a student at the University of Michigan.
Like The College Fix on Facebook / Follow us on Twitter
Like The College Fix on Facebook / Follow us on Twitter