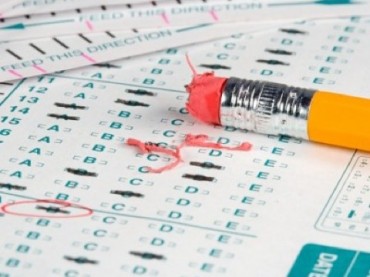 George Washington University is the largest school yet to "declare that its applicants don't have to take the SAT or ACT," The Washington Post reports.
Some officials in higher ed say that tests like the SAT and ACT are "culturally biased," the Post says – which sounds like code for "whites do better on them":
GWU administrators say they always seek well-rounded applicants by looking beyond test scores. But they have worried lately that anxiety about scores was leading some students to cross the school of their list.

"Although we have long employed a holistic application review process, we had concerns that students who could be successful at GW felt discouraged from applying if their scores were not as strong as their high school performance," said Dean of Admissions Karen Stroud Felton. "We want outstanding students from all over the world and from all different backgrounds – regardless of their standardized scores – to recognize GW as a place where they can thrive."
GWU explicitly linked its test drop to concerns that "their efforts to diversify were hitting obstacles." It follows Wesleyan, American University and Wake Forest as other notable schools that have gone test-free:
Wake Forest University, 27th on the national university list, said it has recruited more minority students since announcing a test-optional policy in 2008. "We find much more value in a student's accomplishments in four years of high school than in four hours of Saturday testing," said Martha Blevins Allman, dean of admissions at the private university in Winston-Salem, N.C.
If you're home-schooled, though, don't add GWU to your list just yet: You'll still have to take a test to be considered.
RELATED: Minorities 'flock' to Temple a year after school drops SAT requirement
Like The College Fix on Facebook / Follow us on Twitter