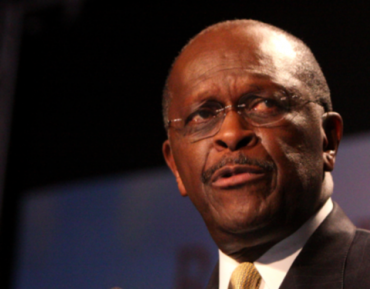 "Hillary Clinton isn't running for president? Bullsh*t."
That was one of many one-liners given to a room full of college students by conservative leader Herman Cain, who in a speech at George Washington University on Monday night also delved into the failures of Obamacare and what it means to be a conservative.
Cain made the comment about Clinton when asked who he likes among emerging contenders in the 2016 presidential election. He went on to joke that as for the rest of the field, he likes: "None of them!"
The one-hour talk was filled with lively and candid quips from Cain, a former Navy engineer and successful business executive who was a candidate for the 2012 Republican Party presidential nomination. Today he hosts a talk radio show.
Cain did not say if he plans to seek the Republican nomination in 2016, but did say seeking the nomination in 2011 was, in retrospect, a regrettable decision, as it was a very difficult time for his family because of the intense scrutiny and invasion of privacy it generated.
During his talk, he touched on the Affordable Care Act, also known as Obamacare, describing it as a fiasco for the country.
"You don't blow up the building to fix the roof," Cain said, implying the new federal mandate is destroying America's healthcare system.
He also talked extensively about leadership, and how his father exhibited the trait by working three jobs just to sustain his family and serve as a role model for his children.
"Great leaders are born," he said. "Good leaders keep working at it."
Cain did not mention President Barack Obama once during his entire visit, but did talk in general about the lack of strong leaders in the nation's capital.
The university's College Democrats were notably among the 130 or so in the audience, and visibly disapproved of much of what Cain said, laughing, sneering and eye-rolling at many of his comments.
But Cain remained undeterred, and explained to the audience the difference between liberals and conservatives.
"Conservatives want less government, less taxes, and more individual responsibility," he said. "Liberals want more government, more taxes, and less individual responsibility."
Cain's advice to young people? He called it "the three I's."
"Stay informed," "stay involved" and "stay inspired," he said.
Cain wrapped up his comments by calling for students to band together.
"I have a newsflash for you," he said. "You're not a Democrat, you're not a Republican. You're an American first."
Cain's visit was co-hosted by the College Republicans and Young America's Foundation student chapters at George Washington University.
Fix contributor Andrew Desiderio is a student at George Washington University.
Click here to Like The College Fix on Facebook  /  Twitter: @CollegeFix