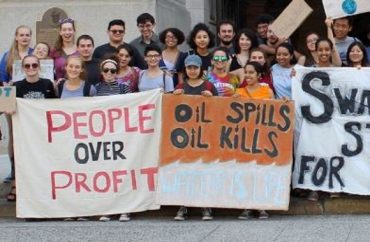 Numerous divestment groups across the country failed to persuade colleges to dump their fossil fuel investments
In recent years, dozens of colleges, spurred in no small part by campus environmental activist groups, have moved to divest their stocks and investments in fossil fuel companies.
These divestments, generally initiated by boards of trustees or regents, are usually undertaken in an effort to fight climate change.
Over the past year, however, several high-profile universities have rejected student activist demands to divest from fossil fuels, presenting the divestment movement with multiple embarrassing setbacks.
Stanford University, the University of Pennsylvania, and the University of Denver have all recently said no to campus activist demands.
Reasons cited include that divestment from fossil fuel is not, as some protesters claim, on par with apartheid or genocide. Nor does divestment create the desired effect of reversing climate change, they said.
Stanford University
In 2016, nearly 750 students at Stanford called for the university to divest of its fossil fuel holdings. A petition circulated calling on students to withhold donations until divestment occurred.
"We refuse to give our money to a university that invests its money in climate chaos and environmental injustice," the signers of the petition affirmed.
In the end, the University's Board of Trustees and the Advisory Panel on Investment Responsibility and Licensing declined to divest, saying "the trustees do not believe that a credible case can be made for divesting from the fossil fuel industry until there are competitive and readily available alternatives."
"Stanford will remain a leader in developing such alternatives," the board added.
In the board's statement, Stanford affirmed its dedication to "environmental initiatives that have a tangible effect on climate change and the university's carbon footprint."
The College Fix reached out to Stanford spokesman Ernest Miranda for comment but received no response.
University of Pennsylvania
A divestment campaign at the University of Pennsylvania also ended in failure earlier this year.
In April of 2015, a full third of Penn's undergraduate population voted in a divestment referendum; nearly 90 percent of all voters elected to divest. In April of 2016, more than 130 faculty published an open letter called on the university's president and Board of Trustees to divest.
In September 2016, the Board of Trustees, at the recommendation of an ad hoc council assembled to adjudicate the divestment issue, announced that it would not be divesting in fossil fuels. Board chair David Cohen issued a letter to the activist group Fossil Free Penn thanking the activists for their "commitment of time, energy, and…deep concern," but added that Fossil Free Penn's proposal "does not meet the established criteria for divestment."
"In its unanimous decision," Cohen wrote,
the Ad Hoc Advisory Committee concurred in what the Trustees consider to be the linchpin of any divestment decision at Penn: the interpretation of moral evil as an activity on par with apartheid or genocide. While the Trustees recognize that the "bar" of moral evil presents a rigorously high barrier of consideration, we are resolute in our belief that such a high barrier must be maintained so that investment decisions and the endowment are not used for the purpose of making public policy statements.
In March of 2017, Penn students hosted a sit-in at the university's College Hall, voicing their disapproval of the university's failure to comply with their requests. Fossil Free Penn continued to lobby for the university divesting from its fossil fuel holdings. But in June of this year, the Board of Trustees once again rejected these demands.
The College Fix reached out to Penn spokespeople Ron Ozio and Amanda Mott for comment but neither responded.
University of Denver
Following three years of efforts by activists at the University of Denver, the Board of Trustees declined to divest from fossil fuels.
"Divestment in fossil fuel companies, or any other industry," the board wrote in a letter to the University of Denver community, "would not be an effective means of mitigating global warming nor would it be consistent with the endowment's long-term purpose to provide enduring benefit to present and future students, faculty, staff and other stakeholders."
The board allowed that "education, research and the ability to foster informed community discourse and in accelerating its sustainability in its operations" represented the university's  "greatest ability to mitigate climate change and foster a sustainable future."
Reached via e-mail, University of Denver spokeswoman Theresa Ahrens told The College Fix that "the Board believe the threats of global climate change are very real and must be treated with urgency and creativity,"

Ahrens told The Fix that the University of Denver's leadership has established a "revolving 'green fund' to investigate new efforts related to sustainability," begun "further investment in the University's sustainability efforts," and is "working with the Board of Trustees and investment managers to make available an alternative type of investment vehicle that may offer donors the ability to have their contributions invested in a manner that aligns with their social objectives."
MORE: Swarthmore protesters demand divestment, say fossil fuels 'assault our futures'
MORE: Penn anti-fossil fuel group upset at administration's 'disrespect,' indifference to its 'sacrifices'
Like The College Fix on Facebook / Follow us on Twitter
IMAGE: Facebook