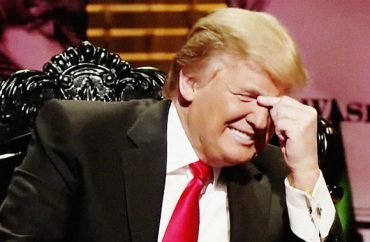 Two 10th grade students at Marshall High School in San Antonio, Texas performed a mock assassination of the president-elect for an English class assignment this past week.
All students in the class were required to submit their skit plans in advance for approval, but apparently the two boys in question altered their performance idea after submission, according to San Antonio Express-News.
Parents of a student in the class said "one of the boys made a gunfire sound effect with his cell phone as the other boy, portraying Trump, fell to the ground in mock death."
"Appropriate action" was taken to reprimand both boys and their teacher, said Northside ISD spokesman Barry Perez. The parents, however, believe more should have been done, including suspending the two students.

"Honestly I have run out of words to describe how angry I am and how shocked I am that they're still in school today," [parent] Melinda Bean said.

MORE: Author bashes Tea Party, says same hatred led to JFK assassination

Younger children using their hands to simulate guns on the playground have been suspended, she said, and this was far worse.

The teacher apologized Monday, Harold Bean said, but that wasn't enough.

"I don't understand how the teacher can repeat an apology and be right there back at work on Monday morning," he said. "Though we understand she is apologetic, it does not make the situation right."
Perez added that once the teacher realized what the skit really was about she stopped it. But Mr. Bean says the teacher should have halted the performance "once she heard the title."
With the GOP back in the White House, is this sort of stuff going to be "entertainment" again?
MORE: Prof who joked of shooting whites after Trump win is placed on leave
MORE: Teacher defends using lesson which calls Donald Trump 'racist,' 'sexist'
Like The College Fix on Facebook / Follow us on Twitter
IMAGE: YouTube