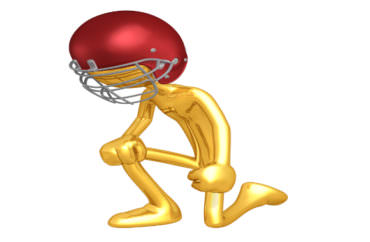 A pair of football players on a private Texas high school team were removed from the squad after taking a knee during the National Anthem last Friday evening.
Victory & Praise Christian Academy's Cedric Ingram-Lewis and Larry McCullough said they had planned in advance to kneel, and had told their coach about it. However, coach Ronnie Ray Mitchem — a veteran who has stopped watching NFL games due to the recent player protests — has had "a long standing rule that players were not to kneel during the anthem."
According to ABC-13, after Ingram-Lewis' and McCullough's protest, Mitchem immediately told them to take off their uniforms.
Ingram-Lewis' mother Rhonda Brady said her son and others "shouldn't be told what time they can and cannot protest." She even compared Mitchem to a slave master:
"He has a slave master mentality," she said. "If you were to go back to that when they wanted to tell us this is what you are going to do and this is how you do it. And if we didn't comply, we were beaten, whooped or even killed."
The Houston Chronicle reports Ms. Brady added "I'm definitely going to have a conversation because I don't like the way that that was handled. But I don't want them back on the team. A man with integrity and morals and ethics and who truly lives by that wouldn't have done anything like that."
The coach is also content with not having the pair back on the team.

Mitchem said the pair left him no choice. He thought he had a deal with his players that no one would kneel. He said he supported the pair protesting, but wanted them to do it in other ways – kneeling after a touchdown in the end zone or writing and passing out a paper about the issues.

Mitchem believes the kneeling offends people and veterans who have fought for this country and takes away from the focus on the issues.

"That was my point of view," Mitchem said. "Like I said, I'm a former Marine. That just doesn't fly and they knew that. I don't have any problem with those young men. We've had a good relationship. They chose to do that and they had to pay for the consequences."
Since Victory & Praise is a private entity, the coach was well within his rights to do what he did. It remains to be seen whether the school administration will back him.
MORE: Superintendent apologizes for 'Trump' banner at high school football game
MORE: Tailgates at Ole Miss football games are biased against minorities
IMAGE: Scott Maxwell/Shutterstock
Like The College Fix on Facebook / Follow us on Twitter