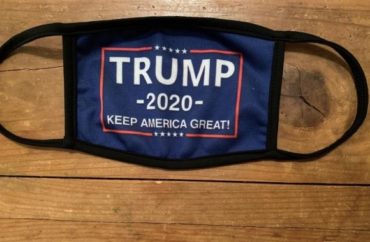 Also allows gay pride, Black Lives Matter messages on clothing
David Ferguson wore a face mask that reads "Trump 2020 Make America Great!" to Northwest Rankin High School in Mississippi.
Assistant Principal Lewis Bradford told him to remove it because the dress code bans "political" messages. He has not worn it since that day more than a month ago, fearing punishment.
Not only was Bradford's claim about the dress code false, but Northwest Rankin High has "[a]pparently" allowed students and teachers, "without reprimand," to wear face masks and other clothing supporting Democratic presidential nominee Joe Biden, gay rights and the Black Lives Matter movement, according to a legal warning letter sent on Election Day.
The Alliance Defending Freedom, which is representing Ferguson, told Rankin County Board of Education President Grumpy Farmer (yes, that's his name) that the dress code "gives too much discretion to administrators to censor viewpoints such as Mr. Ferguson's while permitting other opposing viewpoints."
It explicitly prohibits clothing and masks with "suggestive, obscene, disruptive, or vulgar designs, pictures, symbols, slogans or statements that cause a disruption to or detract from the educational process."
The school must "immediately" let Ferguson wear his pro-Donald Trump mask (above), revise the dress-code policy "to prevent further discrimination" based on viewpoint, and train its staff on the First Amendment rights of students, the letter says.
The alliance warns the school board not to ignore the public interest law firm, which has nine victories at the U.S. Supreme Court in the past nine years.
Under longstanding First Amendment precedent, a school can't censor or punish a student's speech based on "undifferentiated fear" of how others might react to the speech, "apprehension of disturbance" or "mere desire to avoid the discomfort" caused by "an unpopular viewpoint." The letter is quoting the high court's seminal Tinker ruling, which protected students who wore black armbands to protest the Vietnam War.
"This ban on masks with messages supporting Trump is an unconstitutional prior restraint," and the dress code fails to "restrain the discretion of the responsible school officials" through constitutionally required "narrow, objective, and definite standards," the letter continues.
Unusually for a legal warning letter to a school, the alliance asks for Farmer's assurance "today" that Ferguson will be allowed to wear his pro-Trump mask or other clothing with "similar political messages."
The College Fix has asked the members of the school board and its attorney for its response, including whether it agrees the dress-code policy gives unbridled discretion to administrators to enforce and how it defends the high school's action, if the board disagrees with the alliance's claims.
"While school administrators face challenges in helping students navigate school life while wearing masks at this time, they simply can't suspend the First Amendment or arbitrarily pick and choose the messages that students can or can't express," Caleb Dalton, legal counsel for the alliance, said in a press release. Ferguson "deserves an equal opportunity to peacefully express his beliefs."
Asked why it didn't contact the school district for more than a month after the incident, the alliance told The Fix that it sent the letter "less than 24 hours after being retained by our client."
Read the letter and press release.
MORE: ADF sues Oregon for banning the reopening of religious schools
IMAGE: Alliance Defending Freedom
Like The College Fix on Facebook / Follow us on Twitter