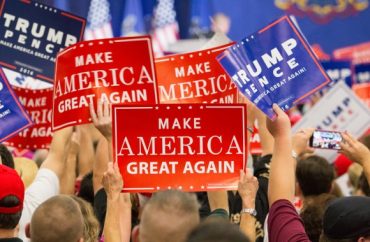 A California high school student faces a pair of battery charges for snatching a fellow student's "Make America Great Again" hat and slapping her English teacher.
Jo-Ann Butler of Union Mine High School in El Dorado also has been suspended from school for one week.
Butler yelled that the MAGA hat "is a racist and hateful symbol" and later claimed she was just making a political statement: "Maybe just wake people up in some type of way, because it's not cool the environment our classroom is in."
The school district's policy allows students to wear political gear (and why not, right?).
Fox News reports that according to the El Dorado Sheriff's Department, "Butler started 'verbally berating' her classmate for wearing the pro-President Trump hat," eventually grabbing it and throwing it to the floor.
"The English teacher told Butler to leave, but she came back in, arguing again with the hat's owner. [Sheriff's Sgt. Anthony] Prencipe says the teacher stepped in to hold back the angry student, who then slapped him on the arm."
Jo-Ann Butler: Student Steals MAGA Hat & Is Suspended https://t.co/5eykJeUwPp pic.twitter.com/TrvpwAZbiq

— ptpviloria (@ptpviloria) August 28, 2018
CBS Sacramento reports Butler's father disagreed with his how his daughter handled the matter, adding a "but":
"Wasn't handled the way I'd like it," Chris Butler said.

Now he's faced with the legal impact of his daughter's now alleged criminal act. All centered around the political divide across the country.

"I don't agree with grabbing someone's hat and verbally talking to them in that way," Chris Butler said. "But as far as the issue being brought up, maybe this is something that needs to be brought up."
In a statement, the district said "…student and staff safety is our highest priority and the UMHS administration will continue to cooperate with the El Dorado County Sheriff's Office as the incident is being investigated."
It's expected the El Dorado County District Attorney will decide whether to formally charge Butler later in the week.
Read the full Fox News and CBS Sacramento stories.
MORE: 'Hip hop prof' laughs at teen attacked for wearing MAGA hat
MORE: No jail time for student who stole peer's MAGA hat
IMAGE: Shutterstock.com
Like The College Fix on Facebook / Follow us on Twitter