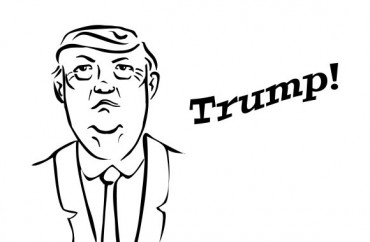 The Perry High School (Iowa) boys basketball team was "targeted" for its "mixed ethnic" roster by student fans of rival Dallas Center-Grimes High at a playoff game last week, enduring chants of "Trump, Trump, Trump" and "USA! USA!"
The Perry team's racial/ethnic makeup mirrors that of the school, which is about 48% minority. Dallas Center-Grimes' squad "is entirely white, like much of the state," USA Today's Cam Smith reports.
If the chants were limited to the GOP candidate's name and the initials of our country, perhaps there wouldn't have been much controversy. But according to the report, the shouts also included "actual details from Trump's proposed immigration plans," and as such would appear to question the immigration status of (some) Perry players.
"It's honestly disrespectful," Perry player Shammond Ivory told WHO. "That's how I take it. I hear it during the game, on and off the court. Everywhere I go.

"As soon as I hear something like that, it just triggers me and it makes me strive for more and to do it for my team, coaches and my community. … It's not about color. We are all equal."

Dallas Center-Grimes administrators confirmed that the reported chants did take place at Monday's game and said that the chants have been dealt with at the school. School officials declined to discuss any disciplinary measures taken against the students participating in the chant, citing student privacy.
RELATED: Arizona high school bans USA, Donald Trump, and red, white and blue due to 'negative connotations'
To their credit, the Perry players and entire program has risen above the incident since it occurred. As noted by our Gannett friends at the Des Moines Register, Perry got its comeuppance on the court with a 57-50 victory in a first round playoff game, ending Dallas Center-Grimes' season.

"Whenever anything turns personal or offensive, it's out of line, and this is definitely out of line," Dallas Center-Grimes activities director Steve Watson told the Register. "Our kids know that. They knew it before. They chose to do it.
Whether people interpret this episode as objectionable or not, the courts have given schools wide discretion in dealing with such incidents.
RELATED: US Supreme Court upholds American flag ban at school
RELATED: California School Bans American Flag, Allows Mexican Flag
Like The College Fix on Facebook / Follow us on Twitter
IMAGE: Borbala Zrinyi / Shutterstock.com