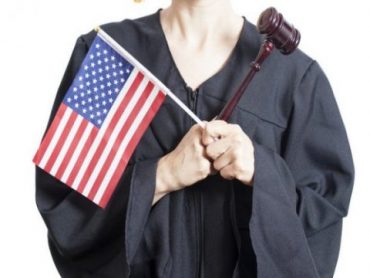 When Shemar Cooper refused to stand for the Pledge of Allegiance in his Spanish class at (Chicago area) Eisenhower High School, he said it was because "America sucks."
Apparently, an issue was made of the incident as Shemar's mother made him apologize to the teacher — for his language, but not for his refusal to stand.
However, the next time Shemar had the (Spanish) class and repeated his Pledge protest by remaining seated, he alleges the teacher grabbed him and attempted to force him to stand.
"Last Friday my son decided he did not want to stand up to Pledge the Allegiance," [Kelly] Porter said. "He has that right. His teacher approached him and insisted that he stand up. Well, he said 'America sucks.' Now, maybe that was a little disrespectful so I came up to the school on Friday and had my son apologize."

Porter thought that would be the end of it, but all this week he has received harassment from that same teacher and other staff members, including being sent to the office for the refusal to stand.

The teacher again insisted he stand on Tuesday and tried to pull him out of his seat, Porter said. And on Thursday, he was pulled out of class and reprimanded.

MORE: Univ. cuts Pledge of Allegiance from Veterans Day chapel b/c it makes some 'uncomfortable'

"But to literally try to force my son out of the chair, that is against the law," Porter said.

He explained to his mother he does not think America supports black people, so he does not believe in the Pledge of Allegiance.

"He sees the news, he sees what's going on with black kids," Porter said.
Aside from the point that Shemar (and his mother) really should not rely on the media for "what's going on with black kids," the teacher, a "Ms. Alfono" according to Porter, was way out of line.
These days, school staff should never put a hand on a student unless absolutely necessary (like during a fight), and educators need to know that a student — like any American — has the constitutional right not to stand for the Pledge. This has been the case (no pun intended) since 1943's West Virginia State Board of Education v. Barnette.
In that US Supreme Court case, appellee Walter Barnette was a Jehovah's Witness who had refused to honor the Pledge. The court's 6-3 decision found that "a salute was a form of utterance and was a means of communicating ideas. 'Compulsory unification of opinion' […] was doomed to failure and was antithetical to First Amendment values."
In the majority opinion, Justice Robert Jackson wrote "[i]f there is any fixed star in our constitutional constellation, it is that no official, high or petty, can prescribe what shall be orthodox in politics, nationalism, religion, or other matters of opinion or force citizens to confess by word or act their faith therein."
Unfortunately, as at Shemar's school, too many educators are unaware of this 73 year-old ruling.
Early in my career an assistant principal stopped by my class during the Pledge, and witnessed a student who had remained seated. After it was over, she reprimanded the young teen that, although he didn't have to say the Pledge, he needed to stand in order to "show respect." Although she did not directly inform me to enforce this "rule," she did give me a stern glance as a sort of warning. I knew I was right for allowing the student to sit, but as a fairly new teacher I wasn't about to argue the point with a superior.
Ms. Porter claims that her son's dissent had nothing to do with San Francisco 49ers quarterback Colin Kaepernick's National Anthem protest. She also said she wants Ms. Alfono arrested and was going to file a police report.
Principal Eric Briceno has promised a thorough investigation of the incident. He might want to add some First Amendment training at the next faculty meeting.
MORE: Pledge of Allegiance reinstated at Florida college following outcry
MORE: New Jersey judge: Pledge of Allegiance can keep 'Under God'
Like The College Fix on Facebook / Follow us on Twitter
IMAGE: yurchello108/Shutterstock