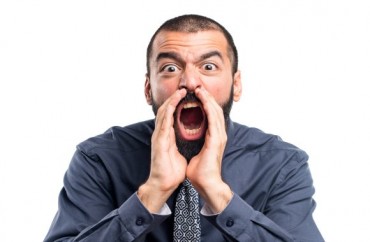 A California high school teacher was caught on audio belittling the US military in class, as well as a student in the class who had worn a shirt emblazoned with a US Marines logo.
El Rancho High School's Gregory Salcido, also a councilman in the town of Pico Rivera, can be heard calling members of the military "the frickin' lowest of our low" and a "bunch of dumbshits."
He also says "we don't have a good military" because it can't defeat "guys wearin' frickin' robes," and couldn't defeat the Vietnamese.
"We haven't beaten anybody since World War II," he adds.
The Whittier Daily News reports "Salcido is heard profanely questioning military members' intelligence and continuing, 'They're not high-level thinkers'" … all the while students are chuckling in the background.
The teacher also wonders why, at events like the Rose Bowl, members of "killing machines" fly over head after the National Anthem.
At the end of the first clip, he says (seemingly to the student in the Marines shirt) "Don't wear that in here."
"We acknowledge it is [Salcido's] voice based on the research of the incident so far and knowing it came from one of our classrooms," district Superintendent Karling Aguilera-Fort said in a phone interview. …

He and Assistant Superintendent of Human Resources Mark Matthews are conducting an investigation.

"We cannot expose the disciplinary measures because it is a personnel matter, but there will be disciplinary measures taken," Aguilera-Fort said.

District officials have not identified the student who made the recording.

"That's not our priority right now," he said. "Our first priority is to assure the community that what was said does not reflect the values of the El Rancho community and the El Rancho board."

Phone calls to Salcido and to Pico Rivera City Manager Rene Bobadilla were not returned.

Salcido did post a statement on Friday to his personal Facebook page, which said, "I don't think it's wise for me to make any comments, but I want my friends, family, and students to know we are fine and we respect the rights of free expression for all individuals."
The student, a 17-year-old senior who said he wished to remain anonymous because he doesn't want any repercussions from friends who support Salcido, said he had no intention of the video being seen by anyone else and is surprised by all the attention.

"It wasn't meant for anyone else, but my mom shared it with a few friends and now it's this," he said in a phone interview Saturday.

He said he made the recording on Jan. 19 during a U.S. history class taught by Salcido.

The young man, whose father and two uncles are Marine veterans who fought in Afghanistan, Desert Storm and Vietnam, said Salcido went too far when he said those in the military were stupid and only joined as a last resort.
The Daily News notes this isn't the first time Salcido has been in hot water. In 2010 he was suspended for allegedly threatening a female student, insulting parents, and making "inappropriate comments to his summer school class about race." Then in 2012 he was placed on administrative leave after the Sheriff's Department received a complaint that he had hit a student.
At city council meetings, Salcido stands "with his hands at his side and does not recite the pledge of allegiance."
He also isn't a fan of President Trump as evidenced by this recent Facebook post:
"Check out this Facebook Memory that just popped up. President Barack Obama's 2nd Inauguration. When the individual occupying 1600 Pennsylvania Avenue was qualified, caring, competent, intelligent, articulate, informed, responsible, respectable, decent and just about every other wholesome, positive, and hopeful adjective you can think of. Or in other words, everything the current occupant of the White House is not."
Read the full Daily News article.
MORE: Teacher's multiple choice test answer: 'He was shooting at Trump'
MORE: Another teacher, another ridiculous anti-Trump rant
IMAGE: Shutterstock.com
Like The College Fix on Facebook / Follow us on Twitter