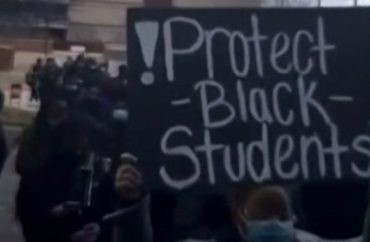 UPDATED
Investigation involved the Secret Service
Illinois law enforcement announced Friday that Kaliyeha Clark-Mabins, a black female college student, will be charged with three counts of disorderly conduct for filing a false police report.
Kevin Schmoll, the chief of police for Southern Illinois University Edwardsville, made the announcement on Friday. The College Fix had started asking questions about the investigation last week.
The notes said "DIE BITCH" and "BLACK PEOPLE DON'T BELONG" according to charging documents provided to The Fix by the Madison County State's Attorney office.
"SIUE Police received [on January 23] a report of a hate crime involving the posting of hand-written notes on the door of a room in Woodland Residence Hall, along with an alleged anonymous text message thread from fall 2021 containing threatening and racially hostile content," campus Director of Media Relations Megan Wieser said in an email to The Fix. Police responded to reports of disorderly conduct and suspicious activity, according to the crime blotter.
The investigation included not just the campus police, but the "Madison County State's Attorney's Office and the U.S. Secret Service," the email said. The investigation cleared two white students falsely accused of involvement, Amanda Jerome and Jimmi Thull.
Schmoll told The Fix on Monday that the Secret Service conducted analysis on the handwriting of the notes.
A closed Change.org petition called for the expulsion of the initially suspected perpetrators. "A black teen and her sister has had their lives threatened by some white teens on campus and have had no justice," a user by the name of "Justice for Us" stated.
Black students demand expulsion – when they thought white teens were to blame
Black activists rallied for the expulsion of the alleged perpetrators when they thought white teens were to blame.
"They say it's under investigation but I feel like she shouldn't be on campus period. Because you threatened to lynch students on this campus," David Daniel, the vice president of the Black Student Union, told KDSK 5. "David organized a demonstration where students chanted and held up posters," KDSK reported.
The Fix reached out to the Black Student Union through its club email and to Professor Howard Ramsby, its advisor on February 3, prior to the filing of criminal charges. The Fix asked for photos of the notes, if BSU could put The College Fix in touch with the alleged victim and what it thought should happen to the perpetrator.
Ramsby and BSU did not respond to a follow-up request for comment on February 4 after the announcement of the criminal charges.
The SIUE Code of Conduct states that "a felony criminal charge with a nexus to campus and/or that involves other SIUE students" will lead to "automatic interim separation, pending further investigation."
MORE: Hate crime hoaxes of 2021
Editor's note: The article has been updated with further information from the SIUE police on the Secret Service's involvement.
IMAGE: Mikala Hall/KDSK 5
Like The College Fix on Facebook / Follow us on Twitter