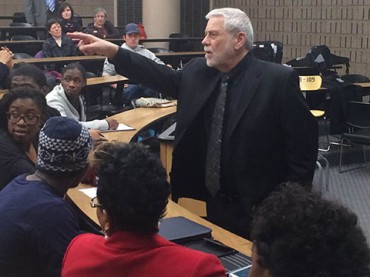 Editor's Note: The article has been updated.
Nearly all modern genocides "begin on the campus," the author of books on the Holocaust and U.S. indirect financing of terrorists told the University of Michigan-Flint Thursday night.
Edwin Black, an investigative journalist and human-rights activist, assailed academics who fail to adequately teach students the historical facts he believes they should know.
Black is touring in support of his latest book, Financing the Flames, which claims that American taxpayers are effectively subsidizing terror and instability in the Middle East through public support of nongovernmental organizations.
Black outlined the specific elements of international law in the Middle East, treaty by treaty, chapter and verse. During a Q&A session on professors in general, he asked rhetorically, "How come you now know more than all the teachers in this city about the history of international law in the Middle East?"
Many academics "don't know because it's easier not to know," Black said.
Black argued that academics are afraid to admit to factual mistakes or omissions in their work and that people in general are fearful of investigating the "uncomfortable truths" that he has devoted his life to uncovering.
Black said that his previous work, the New York Times bestseller IBM and the Holocaust, was revelatory because no one had investigated nor had the courage to write about IBM's involvement in the Holocaust. Black encouraged audience members to "learn about the stuff they don't want you to know.
"There were hundreds of thousands of books on the Holocaust … not one of them bothered to mention that every concentration camp had an IBM customer site in that camp to organize the whole thing," said Black.
Another bestselling book by Black, War Against the Weak, chronicled how the ideology of eugenics was developed by U.S. intelligentsia and nonprofits and used to justify forced sterilization of minorities and the planned extermination of "unfit" people by law in the United States. According to Black, the ideology influenced Nazi Germany during the Holocaust.
"It's not a secret, it's not a secret history, it's open history if only we can see it in front of us," said Black, the son of Polish Holocaust survivors.
"Remember all this eugenics stuff that I wrote about was not proliferated in the back of a Ford truck in Mississippi," Black said. "It was invented, cultured and proliferated at Harvard, Yale, and Princeton.
"When you hate, and you want to dress up your hate with some kind of uplifting façade, you turn it not into racism but race 'science,'" said Black.
The University of Michigan itself was an important part of the eugenics movement, according to the Michigan Daily.
Its University Hospital performed "a large portion" of the estimated 3,800 sterilizations in Michigan; the former chief of the medical school was a leading advocate for the forced sterilization law; and after his resignation from the school presidency in 1929, Clarence Cook Little went on to preside over the American Eugenics Society during his retirement, the Daily said in 2009.
Black said that although the current "age of misinformation" has made it more difficult for people to find reliable data, he hopes that his research will help them discover the truth for themselves.
"Everybody in our society is walking into a mirror. Are you going to see what's behind you and bash into [the mirror] or are you going walk around it and avoid repeating your own past?" said Black.
College Fix reporter Mariana Barillas is a student at the University of Michigan-Flint.
Like The College Fix on Facebook / Follow us on Twitter
IMAGE: Mariana Barillas