But it's hard for cash-strapped comics to turn down big-money college gigs
When comedian Chris Rock explained last fall why he stopped performing on college campuses, it hit a nerve with his peers and shone a light on the politically correct perils of trying to make college students laugh.
Stand-up comics told The College Fix they make a deal with the devil when they step foot on campus: The gigs pay well, but a performance that backfires can endanger their other revenue streams.
Asked about University of California-Berkeley student leaders trying to disinvite comedian Bill Maher from speaking at December's commencement, Rock told New York he called it quits with students years ago because of "their social views and their willingness to not offend anybody."
Students have been "raised on a culture of 'We're not going to keep score in the game because we don't want anyone to lose,'" and they are afraid to even identify their African-American peers as "black," Rock continued. "You can't even be offensive on your way to being inoffensive."
Disinvitations go hand-in-hand with humorlessness
Rock's response to Maher's kerfuffle drew applause from Greg Lukianoff, president of the Foundation for Individual Rights in Education (FIRE).
"I was excited to see that Chris Rock was open and honest about a problem I've seen for a long time," Lukianoff told The Fix in an email: The environment on campus is terrible for comedy, satire and parody.
The hostility to comedy – with its frequent attention to ugly truths that students would rather avoid – has grown in tandem with disinvitations like Maher's.
FIRE reported in May that college disinvitations hovered around 10 a year through the mid-2000s, started climbing in 2008, reached the high teens through 2012 and spiked around 30 in 2013.
Its report said that institutions with the highest number of "disinvitation incidents" also maintain "severely speech-restrictive policies."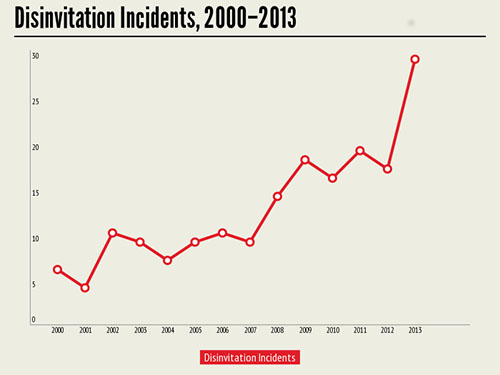 Big risk, big reward
While other entertainers join Rock in decrying the stifling rules and sensibilities governing campus speech, their wallets can cloud their judgment.
Small clubs and hole-in-the-wall joints might shell out $200 for a comedian's services, stand-up comedian and Laughter Is Better than Communism author Andrew Heaton told The Fix by phone. But universities, flush with cash from endowments and student tuition and fees, pay a great deal more, he said.
The University of Colorado's student government, for example, has an operating budget of just over $27 million, making it one of the most well-heeled in the country. According to CU-Boulder law professor Paul Campos, the school spent more than $100,000 each to bring Rudy Giuliani, Kofi Annan and B.B. King to campus in the past few years.
Heaton, who hosts the Web series EconPop and starred in the congressional satire Cap South, said his peers aren't naïve that campuses are politically correct havens. "I know comedians who reluctantly do college campuses because the money is good.
"I think one of the reasons why there is so much PC is because bigotry is terrible," Heaton said. He pointed to "latent guilt from people who are traditionally benefiting from a society that has a lot of racial problems."
The best way for academics to alleviate their guilt about bigotry "is to point at the 'evil' person in the room," to identify that "I am clearly not the evil person," Heaton said.
Comedians with any modicum of success don't want the risk of amusing students, comedian Jimmy Failla told The Fix by phone.
"If you are in a position where you have a lot to lose … let's say you have a movie deal, a sitcom, a syndicated radio show … you know, they have absolutely no motivation to do a college show," said Failla, who hosts the Off the Meter podcast and wrote a "survival guide" based on his years as a cab driver.
Viral outrage from a single gig
Failla thinks the campus environment is more stifling than in years past, partly because everyone has a smartphone.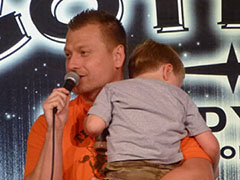 "If somebody finds you offensive for reasons that may or may not be offensive … for intent you probably did not have," that person can share their thoughts "with millions and millions of people on social media…and gain a little momentum that eventually brings you down," Failla said.
What campus administrators and delicate students fail to understand is that humor and parody are important outlets for grieving, Failla said.
"Whenever there's a bad situation happening in the world, whether it is ISIS or Ebola, or whatever it is, there are a lot of people out there who grieve by laughing at those topics," Failla said.
"And I don't think you should be able to take that away from them … because some person has decided that it should not exist."
College Fix reporter Christopher White is a University of Missouri graduate student and an editorial assistant for The College Fix.
Like The College Fix on Facebook / Follow us on Twitter
IMAGES: YouTube screenshot, Foundation for Individual Rights in Education, Jimmy Failla's website