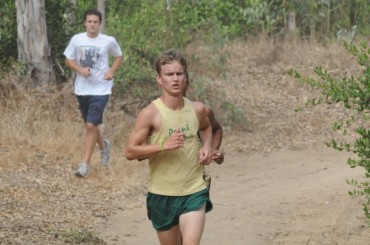 SAN DIEGO – As a student athlete at Point Loma Nazarene University, a typical Tuesday afternoon for me as a freshman, sophomore and junior involved running 10 1,000-meter repeats at a 5:15-mile pace alongside the glistening Mission Bay waters.
But on a more recent Tuesday, I played FIFA Soccer 12 on my roommate's Xbox while eating half a box of Oreos.
So yeah, things are a little different for me now, and it's because of a federal law passed in the 1970s — a law that aims to help female athletes but actually wreaked destruction on several male and female sports teams at my small, private college in San Diego.
In the name of "equity," Title IX forced Point Loma Nazarene University to cut my sport, track and field, as well as it's men's golf team, and – ironically – its women's softball team.
The problems originated in 2008, when the city of San Diego notified campus administrators that our softball team could no longer use the city-owned softball fields near the school.
On top of that, someone filed an anonymous grievance with the Office of Civil Rights, saying our softball team was not treated equally compared to the baseball team, which uses spectacular fields on campus with an endless view of the sea. Point Loma Nazarene is tucked atop a cliff overlooking the Pacific Ocean.
Eventually the decision was made to ax the women's softball program, because no suitable backup field was found, and the school didn't have the space on campus nor the money to build or offer alternatives that matched the men's baseball program.
It was a juggernaut of a women's softball team, and finished second, fourth and seventh in the NAIA national rankings during its final three seasons.
With the softball team gone, the school was out of compliance with Title IX regulations, which uses a quota system to demand so-called gender equity for men and women. So men's track and golf at Point Loma Nazarene University got the boot, too. That was in 2010.
After that, my life — not to mention my personal identity — went through some pretty significant changes.
I'm no longer an athlete, a moniker I've held since I was five. I no longer have to go to practice every day or spend my Saturdays at meets. I don't have to wake up at 7 a.m. on Sunday mornings for a 15-mile run. I don't have to avoid scheduling afternoon classes.
Though I spent seven years on running teams, I was never one of those people who just had to run every day or every week or, shoot, even every year, to stay sane. I never really ran because I loved to run as much as I loved everything else about competitive running: the races, the training and, most of all, the team atmosphere.
Unfortunately, those are the things I can't replace.
Point Loma track and cross country provided me with most of my greatest memories of college thus far. It also gave me my closest friends. I've gone to both of the women's cross country meets this season — meets I ran in the past three years — and I couldn't shake the feeling that I should've been out there, competing.
But in the name of "equity," Title IX forced my college to cut my sport and rob who knows how many future runners and male golfers the chance to compete in college.
Look, I understand where Title IX came from. When the law was passed, it was great for women's sports. Because of Title IX, my female friends and family have gotten to compete in high school and collegiate sports.
But nowadays, when women make up nearly 60 percent of all college students all Title IX does is destroy male athletic programs. It is the embodiment of the exact thing it seeks to eradicate: sexism.
Point Loma Nazarene couldn't financially support a softball field, so we should punish men's teams that had nothing to do with it?
Colleges across the country suffer because of Title IX. Men's sports programs continue to shrink. A 2001 USA Today story noted that between 1980 and 1999, 40 percent of NCAA and NAIA wrestling teams were eliminated. In 1980, there were 80 collegiate men's gymnastics teams. Today there are 20.
The ever-expanding female-male ratio of college students will only worsen the condition. If the current trends continue, men's sports could see themselves in the same situation women's sports did in the '70s.
But of course that's not discrimination at all.
The intentions of Title IX are noble, but it's gone too far. How many men won't get to go to college because the teams that would've given them scholarships no longer exist? How many men won't get the same wonderful experience of Point Loma Nazarene running that I was blessed with for nearly three years?
The blame doesn't fall completely on Title IX, nor does it fall completely on administrators for failing to find a softball field. But it sure doesn't fall on the men who ran, jumped and golfed at Point Loma Nazarene.
Fix contributor Jacob Roth is a senior at Point Loma Nazarene University.
Click here to Like The College Fix on Facebook. / TWITTER: @CollegeFix
IMAGE: Jacob Roth