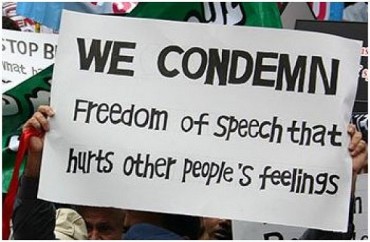 Right after Christmas, Central High School's Michael Moroz wrote a column for his Philadelphia school paper in which he criticized the race-based protests that had taken place at the University of Missouri. The genesis of the Mizzou movement, he noted, was the shooting of teenager Michael Brown.
Following his piece, Moroz faced severe condemnation and even death threats. The paper's editors removed his column from its website, noting "if an article comes across as insensitive, and the Central community would rather have it taken down … then the article will be taken down."
The continued threats and harassment led to Moroz finishing the school year on a home-bound independent study. He says the harassment still continues and "claims even his former teachers and staff at Central have taken part."
A screen-grab of one Twitter exchange shows a student asking Central teacher Jeremy Julien if she would be penalized for punching Moroz "in addition to using [her] words."
Julien responds "yes," but adds an "lol" — text-speak for "laugh out loud." Though Fox News's Perry Chiaramonte says that addition is "a flippant dismissal of what Moroz perceived as a threat," to be fair it could be seen as an expression of disbelieving startlement.
In another Twitter exchange, Julien appears to defend Moroz  — a little — against the claims of fellow Central teacher Thomas Quinn.
Quinn says in one tweet that Moroz's use of the terms "thug," "antisemitism," and "starve" in the column "all cross the line into baiting a fight rather than making a good argument in reasonable debate."
Julien retorts, "I think the article was intentionally inflammatory. Ultimately the goal is positive discourse in light of a lot of anger and hurt."
Officials for the Philadelphia school district told FoxNews.com that they have accommodated Moroz as much as possible since the beginning of the year and that appropriate action was taken regarding threats against him.

"The School District stands by the numerous supports and accommodations provided to Mr. Moroz by the Central High School principal and faculty," Raven Hill, a spokesperson for the Philadelphia School District, told FoxNews.com in a written statement.

"His claims were investigated and the students who threatened him were disciplined according to the code of conduct. The school accommodated his requests for a police escort and independent study."

Moroz said the sniping and threats he believes he has been subjected to on social media warrant action, too.

"If I made threats on Twitter against someone who wrote a pro-Black Lives Matter column, I wouldn't be getting any leniency," Moroz said. "It's been more than one person and the school isn't doing anything about it."
Michael has said that Central HS "has little ideological diversity" — "[y]ou're in class and you're hearing the same opinion over and over again — the unions are great, Republicans are evil."
Next stop for Moroz after this school year: The University of Pennsylvania.
RELATED: Death threats made against HS student who criticized college race protests
RELATED: Student newspaper says 'emotional injury' justifies the squelching of unpopular speech
Like The College Fix on Facebook / Follow us on Twitter
IMAGE: Sam Graham/Flickr