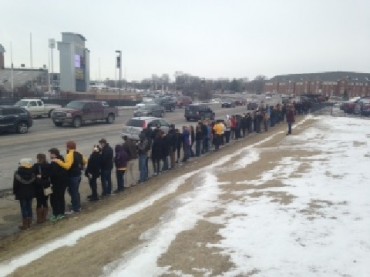 #StandwithSam wall outnumbers, outflanks Westboro Baptist Church protesters
COLUMBIA – Hundreds of University of Missouri students converged on campus Saturday and created a half-mile long human shield to stand against a small group of notorious Westboro Baptist Church protestors, in town to denounce Missouri defensive lineman Michael Sam, who recently announced he's gay.
Roughly 600 people, mostly students, stood in a single-file line and formed a wall against about 15 protestors from the extremist church, infamously known as the "God Hates F*gs" protesters.
After Westboro had announced its plans earlier in the week to protest at an afternoon basketball game at the University of Missouri's Hearnes Center arena, students had quickly organized the counter protest via social media, calling for their peers to #StandwithSam.
On Saturday, the students braved snow and frigid temperatures to make that stand.
The "One Wall, One Mizzou" participants appeared cheerful and more than ready to show solidarity against the WBC protesting Sam's sexuality.
Some linked arms. Other talked quietly. A few sang the alma matter to drown out the other protest.
Campus leaders handed out Stand With Sam T-shirts and buttons to administrators, athletes and students as they joined the wall. Several students waved signs while on the wall with phrases such as: "You're perfect just the way you are," and "free hugs (or kisses)."
Westboro is an unaffiliated Baptist church, and most mainstream Christians oppose and disavow their methods. On Saturday, the church members held their usual signs, such as "Why Did God Destroy Sodom?" and "Repent or Perish," but a few of the signs also incorporated the news about Sam, such as a message written on an image of the university's mascot, the Tigers.
They also sang songs with lyrics such as: "Get back in the closet where you belong … Get back, Sammy" and "God will remember Massachusetts, God will destroy Massachusetts."
Massachusetts was the first state to legalize gay marriage.
The protest never got heated. Westboro stayed on a snowy street corner across from the campus, while the students lined the edge of the campus boundaries.
When Sam came out as homosexual it made national headlines, as he may become the first openly gay player in the NFL. But response on campus to the news was largely subdued until Westboro Baptist Church announced its intentions to protest.
Sam was reportedly at Saturday's basketball game.
College Fix contributor Christopher White is a University of Missouri graduate student and an editorial assistant for The College Fix.
IMAGES: Christopher White
Like The College Fix on Facebook / Follow us on Twitter