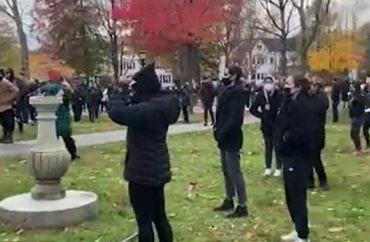 Officials deleted the post and apologized
Hundreds of students recently protested at Bates College after the school posted one photo of a College Republican leader on Instagram as part of a planned series on student voting leading up to the 2020 election.
After an outcry from students, the private college in Maine deleted the post and the school's president appeared at a rally to apologize for his mistakes. But that's not enough, as the students are now using the social media post as a reason to push for a list of demands.
Campus paper The Bates Student reported:
On Oct. 23, the Bates Communications Office posted a slideshow featuring eleven students who were voting in their first presidential election. They planned to post a profile of one student a day leading up to the election on the Bates College Instagram.

The post profiling the president of Bates College Republicans was only the third of the profiles to be posted, and at that point, it was the only post that referenced a student organization affiliated with a political party.

All but one of the eleven students featured in the series belonged to either neutral or left-leaning student organizations, including Bates Votes, High Altitude Ballooning Club, and the Environmental Coalition.
The college deleted the entire slideshow and photo from its Instagram.
The student paper first said the post was made on October 27, but then said it was posted on October 23. It is possible that the school posted the entire slideshow on October 23 and then posted the College Republican photo on its own on October 27.
The number of comments and criticism led the school to disable commenting. The students who wanted the post removed then accused the university of violating their free speech rights. The school then enabled comments again but deleted the photo after promising to do so at the protest.
"To be clear, that's not where it should stop…I need to do more work, my colleagues need to do more work," Sean Findlen, a spokesperson for the school, said at the October 30 rally, according to the student paper.
The president also spoke at the student government-organized rally.
"It was incredibly insensitive of me to speak out about the election without taking that into account," Clayton Spencer said, in reference to the "added harm, fear, and feelings of unsafety inflicted on the Bates community," the Bates Student reported.
Student organizers did not take the apologies and deletion as the final step.
They demanded a series of changes from the university, one of which included a deletion of the post.
The unmet demands include a "direct stance against racism with a commitment to anti-racism work," a promise "from all affiliated Bates student organizations to [engage in] anti-racism work" and a required course in critical race theory for all students.
Watch the full protest and read a student response.
IMAGE: Bates Student Government/Instagram
Like The College Fix on Facebook / Follow us on Twitter