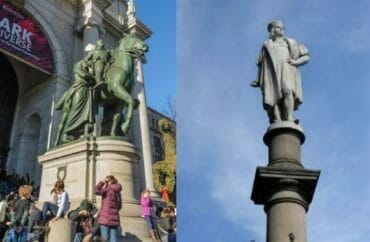 Hundreds of professors have signed onto a letter calling for New York City to remove monuments honoring Theodore Roosevelt and Christopher Columbus, saying the statues of the historical figures represent "white supremacy."
The scholars made their request earlier this month in an open letter to New York's Mayoral Advisory Commission on City Art, Monuments and Markers. The letter calls on the panel, established in September by Mayor Bill De Blasio, to recommend several monuments be scrubbed from city property and relocated to inside museums.
The statues of Roosevelt, the 26th president, and the Italian explorer Columbus are among five so-called "objects of popular resentment" the professors are petitioning to have removed.
"For too long, they have generated harm and offense as expressions of white supremacy. These monuments are an affront in a city whose elected officials preach tolerance and equity," the letter says of the monuments, some of which have been targets of protest and vandalism in the past.
Earlier this month, Hyperallergic, an arts and culture website, reported the letter had more than 120 signatures. It has since amassed hundreds of additional signatures.
Those who have signed onto the letter include from professors from New York colleges including Columbia University, Brooklyn College and New York University as well as from far-flung institutions such as the University of California Santa Cruz and the University of New Mexico.
The College Fix reached out to more than a dozen signatories for comment, but did not receive any responses.
The academics' request comes as New York city grapples with potentially removing controversial monuments located on city property. Following an August white nationalist rally in Virginia that left one person dead, De Blasio announced on Twitter the city would review its "symbols of hate."
And while scores of professor have attached their name to the recent open letter, higher education already has a prominent role in the decision making process regarding the monuments. Six of the panel's members are professors.
Describing Theodore Roosevelt as an "imperialist, and frank advocate of eugenics," the open letter from the scholars asserts his statue's removal would make a "bold statement" that racism won't be celebrated in New York city.
The statue, located outside the city's American Museum of Natural History, includes the former president on horseback with an American Indian, dressed in traditional garb, and an African man surrounding Roosevelt.
"Even casual visitors who may not possess this knowledge regard the monument as a stark embodiment of white supremacy, and it is an especial source of hurt to Black and Indigenous people among them," the scholars state in their letter.
As for the Columbus Statue, located in Manhattan's Columbus Circle, the letter states it's the "most controversial of the monuments" but that it needs to be removed because the explorer was part of "historical genocide."
"By 1600, at least 50 million Indigenous people died in this hemisphere as a result of the Columbian encounter with Europeans, whether from war, disease or enslavement. It takes only a little understanding to see why their descendants do not regard anything associated with 1492 as an object of veneration," the letter states.
The other monuments that the open letter request the city panel recommend be removed includes a Central Park statue of a white, 19th century doctor that performed "surgical experiments" on female slaves and two markers dedicated to two men the letter describes as "Nazi collaborators."
"There are no defenders of these monuments, and they have no place on City property," the letter states.
While the professors are calling on the monuments to be removed from city property, they write in their letter that they don't want to see the statutes collect dust in storage. The letter recommends the controversial pieces of art be showcased instead in museums or at memorials that can better flesh out the history and context behind them.
MORE: Pepperdine U.'s Columbus statue kept mothballed after 'oppression' protests
Like The College Fix on Facebook / Follow us on Twitter