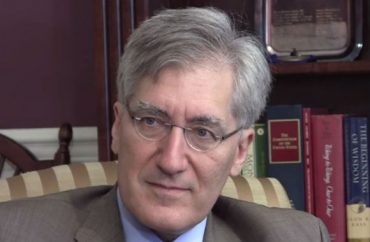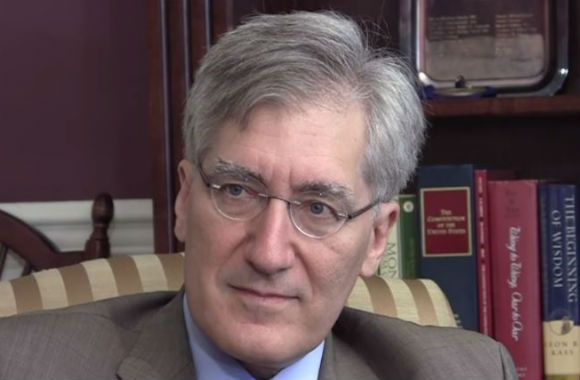 Conservative Princeton Prof. Robert George has joined up again with his Marxist buddy and former Princeton colleague Cornel West, now at Harvard, but this time they aren't teaching a class together.
They released a joint statement Tuesday on "Truth Seeking, Democracy, and Freedom of Thought and Expression.
While the statement doesn't mention this month's violent protest against libertarian scholar Charles Murray at Middlebury College, that is clearly the context, given the first signatory is the Middlebury professor who got injured while shielding Murray from the mob, Allison Stanger.
It begins:
The pursuit of knowledge and the maintenance of a free and democratic society require the cultivation and practice of the virtues of intellectual humility, openness of mind, and, above all, love of truth. These virtues will manifest themselves and be strengthened by one's willingness to listen attentively and respectfully to intelligent people who challenge one's beliefs and who represent causes one disagrees with and points of view one does not share.
They exhort readers to "oppose efforts to silence those with whom we disagree—especially on college and university campuses."
The statement cites John Stuart Mill's teaching that people should "honestly consider" and not just "tolerate grudgingly" those views they find "shocking or scandalous":
Whether you are a person of the left, the right, or the center, there are reasonable people of goodwill who do not share your fundamental convictions. … So someone who has not fallen into the idolatry of worshiping his or her own opinions and loving them above truth itself will want to listen to people who see things differently in order to learn what considerations—evidence, reasons, arguments—led them to a place different from where one happens, at least for now, to find oneself.
MORE: Meet the professor every conservative student should know about
It goes beyond disinviting speakers, demanding their exclusion from campus or "disrupting their presentations," they say:
It is all-too-common these days for people to try to immunize from criticism opinions that happen to be dominant in their particular communities. Sometimes this is done by questioning the motives and thus stigmatizing those who dissent from prevailing opinions …
Everyone has the right to protest, but each should ask before protesting if it might "better serve the cause of truth-seeking to engage the speaker in frank civil discussion," say George and West:
Such an ethos protects us against dogmatism and groupthink, both of which are toxic to the health of academic communities and to the functioning of democracies.
Ideological odd couple Robert George and Cornel West issue a joint statement against 'campus illiberalism' https://t.co/W8wt9syxZK pic.twitter.com/e0LdTaWN6I

— Samuel Conn, Ph.D. (@Dr_Samuel_Conn) March 16, 2017
As of Thursday afternoon the statement is approaching 400 signatures, which appear to be mostly professors, and a few dozen are identified as current and past members of the Middlebury and Princeton classes.
Inside Higher Ed said the list was "attracting thousands of signatures," apparently based on George telling the publication that "several [signatures] per minute" were being sent to him as of Wednesday:
"The goal is a heightened sense among faculty, administrators and students — all three categories — that they must refuse to tolerate campus illiberalism," George said. "It's a shared responsibility of everybody to not only refuse to participate in it but to refuse to accept it. In order for colleges and universities to fulfill their missions, there has to be an ethos, an atmosphere, an environment, in which people feel free to speak their minds — where people are challenging each other, and thus learning."
While the Middlebury incident was the immediate trigger for the statement, "the authors say they've long been concerned with a turning tide on colleges campuses that's led to the shouting down and disinvitation of invited speakers," Inside Higher Ed says:
They've been trying to model the kind of civil dialogue they're advocating for several years, teaching and speaking together publicly about the benefits of a liberal arts education — including recently at the American Enterprise Institute.
One of the more notable signatories is Peter Singer, bioethics professor at Princeton, who has said "killing a newborn baby is never equivalent to killing a person."
He was recently shouted down by disability rights protesters as he made a Skype appearance at the University of Victoria, which George said was partly enabled by the "consumer model" of education in which universities don't want to offend their "customers."
I've signed on to this important statement from Robert George and Cornel West. Please join me: https://t.co/oPneLnNiYo

— Peter Singer (@PeterSinger) March 14, 2017
The Foundation for Individual Rights in Education also notes Thursday that about a third of Middlebury faculty have signed an earlier similar statement.
Read the George-West statement, Inside Higher Ed story and FIRE post on Middlebury.
MORE: Robert George honored by Princeton with 'Distinguished Teaching' award
Like The College Fix on Facebook / Follow us on Twitter
Like The College Fix on Facebook / Follow us on Twitter