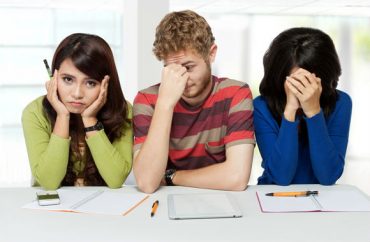 Don't want to risk our health
At a time when college administrators will seemingly give in to any student protest, Ivy League activists have stumbled upon a way to protest without accomplishing anything: short-term hunger strikes.
Anti-Israel protesters at Columbia University and union organizers at Yale have both come up short in their bids to force change by fasting in the past month.
Columbia students have been taking turns fasting in support of Palestinian political prisoners for more than two weeks.
More than 1,500 Palestinian political prisoners began a hunger strike on April 17 in advocacy of better conditions inside Israeli jails.
Student members of Columbia University Apartheid Divest (CUAD) began their protest May 3, vowing that "each day, one member will undertake a 24 hour hunger strike," until the Palestinian political prisoners stop protesting.
Every day since, the designated striker of the day has been featured on the group's social media page. Each holds a sign that reads "In Solidarity of Palestinian Prisoners on Hunger Strike #CUADHungerStrike."
They cited political prisoner Marwan Barghouti for inspiration. "Our chains will be broken before we are, because it is human nature to heed the call for freedom regardless of the cost."
"CUAD stands firmly in solidarity with the resilient Palestinian prisoners in the call for justice, freedom, and dignity," they wrote.
Jeffrey Jacobs, a graduate student in the School of Arts and Science, was a recently featured striker.
"Palestinian prisoners are on the 31st day of their#DignityStrike, and today is Day 15 of#CUADhungerstrike in solidarity with their call for justice, freedom, and dignity," CUAD captioned his photo.
Keeping in line with the group's history of denigrating Israel, CUAD claimed that Israeli military forces are treating Palestinian prisoners inhumanely, contributing to mass incarceration of Palestinians, and that Israel is unlawfully occupying Palestine.
When the Danny Danon, Israeli ambassador to the United Nations, came to Columbia in February, CUAD members were there to shout him down.
MORE: Jewish students fight back against 'Zionism is Racism' events
They also flyered the campus with posters claiming "Palestine is Stolen Land" and that "Zionism is Racism," and hosted an event inviting students to "learn about Israel's racist and imperialist apartheid policies" during Israeli Apartheid Week.
The flyers were not taken lightly by members of Columbia's pro-Israel group Aryeh. They fought back by dispatching 50 students to wear shirts that proudly proclaimed "ZIONIST" and condemning CUAD's statements as "lies."
So far, Columbia students who stop eating for a day – a common practice by Mormons, Muslims and other conservative religious groups – don't appear to have changed anything.
But their strike has sought far more sweeping change than the failed hunger strike by Yale activists who are trying to get the administration to recognize their union.
Eight graduate teaching assistants started an "indefinite fast" on April 25, but the brochure they distributed to onlookers suggested they were taking turns not eating, similar to the Columbia strike.
After much confusion and derision – including a tweeted barb from CNN anchor Jake Tapper – their PR firm confirmed to The College Fix that "none of them have consumed food or anything except water" as of the ninth day of their strike.
By this week, the remaining three fasters gave up. New Haven Register reported that they threw in the towel after two weeks because those who were still fasting would start to "suffer serious physical harm," in the judgment of medical professionals. Their places were taken by other union members.
Yale has not agreed to come to the bargaining table with the union yet. It is unclear whether fasting will help expedite that process.
The union, Local 33, is planning a more conventional protest with a better track record than fasting.
According to the Yale Daily News, the union and "peer organizations" have promised to "stage a disruptive protest" during the May 22 commencement. Graduating students are denouncing the planned disruption, with Class of 2017 Treasurer Mimi Pham calling it "insensitive" to her 1,300 peers.
Yale says it has made "contingency plans" for graduates and their loved ones if protesters try to ruin commencement.
MORE: Sorry for the confusion, we really weren't eating during hunger strike
Like The College Fix on Facebook / Follow us on Twitter
IMAGE: Odua Images/Shutterstock