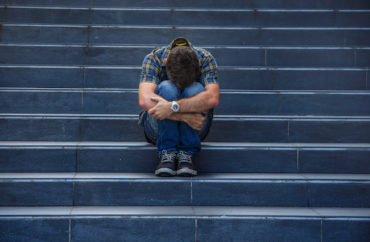 OPINION: I have cerebral palsy, but don't feel sorry for me
It was a warm, sunny day in late October as I walked the quad with my friend and fellow student Maverick Doane at the University of North Carolina Chapel Hill.
As we happily trudged along, we noticed an anti-abortion protest causing a bit of a commotion. Naturally curious, we headed over.
I hate abortion, but I know I am in the minority on my campus when it comes to that topic and other social issues, and often decide not to get in the fray.
As Maverick struck up a conversation with one of the demonstrators, I hung back and listened.
The whole situation intensified as a man screamed at the top of his lungs at students meandering around the protest, who in turn engaged him in dialogue.
He was upset a black graduate student was arrested for allegedly taking "articles from another individual's hand" as she protested the anti-abortion demonstrators.
"Stand up for your fucking fellow students," he bellowed at the small crowd. "Stand up for people who are marginalized on this campus."
I didn't plan on getting involved, but fate — and perhaps my emotions — had other plans that day.
"I'm marginalized," I heard myself say out loud.
The man, who I later found out is PhD student Timothy James Osborn, a TA at UNC, whipped around at my retort.
"Shut the fuck up," he yelled, pointing a finger toward my chest.
"I have a disability. I have cerebral palsy," I explained. "How am I not marginalized?"
"And I am sorry about that," he replied, "then help show solidarity with fucking anti-racists then."
At that point others chimed in with me, asking how the display was racist. He cited the lynching images on the highly graphic display.
"It's history," I said. "You don't even know me. I have cerebral palsy."
"Then stand with your shit then," he said.
I'll admit, the next thing I did was out of character for me, but I suppose it might have been the result of years of frustration bottled up inside. I threw off my backpack and joined in the emotional outburst.
"Do you want to see me walk? Do you want to see me walk? You call my friends racists? You don't even know them! You don't know them!"
"Dude, I respect what you're going through," Osborn replied. "Then all I am saying is stand up for … then stand up against racism!"
"I am standing up, right now, right now!"
"Stand up against racism," he yelled back. "What did you do when a black woman got arrested?"
"What do you mean," I replied, honestly confused by the question. "I don't know?"
"It's OK to not know what to do, it's OK to not know what to do. But then listen to people," he said back. "Then listen to the people who are standing up for everyone here. We're having it here."
He stood in front of me. We were both emotionally charged.
"I'm not moving, we've having it here," he said to me, his voice still aggressive and charged. Then he began addressing the crowd again.
"What I am saying, what I am saying, is that literally you all just fucking watched a black woman get arrested. Stand up for them. Get in the fucking way of the pigs! Stand in the fucking way of the cops!"
He continued to rant, and me and my peers eventually moved on.
It's been about a month since the incident, and I'm still thinking about it.
He had called us racists, and the UNC campus police "pigs," and I was and am deeply offended. I despise racism and bigotry in any and all its forms.
Growing up with a disability can often be challenging and isolating. In high school, I never felt welcomed or like I had a seat at the table.
But I don't want you to feel sorry for me. I am a child of God, with inherent value and worth. We all are, whether a baby in the womb or a twenty-something college kid; whether black, white or brown; whether disabled or not.
In many ways, I feel like I've had to fight my whole life to prove I am just as capable as any of my peers. It might take me longer to do certain things, or I might limp when I walk, but I know my heart doesn't limp.
The danger of labeling people is self-explanatory. When we start to use powerful words like "racists" to describe people we don't know, we began to dehumanize them. This, in turn, leads to even more misunderstanding and strife.
I am proud to have cerebral palsy. I am grateful to attend the University of North Carolina at Chapel Hill, and I do consider myself an ally — for everyone.
I will always do my best to stick up for those who are marginalized, oppressed, and those who feel they don't have a voice.
To the TA who told me to "shut the fuck up," I will not, sir. I'll never shut up.
I hope one day we can sit down at a table and have a conversation. Because truly, I believe we may have more in common than you realize.
MORE: Meet the Poster Child for 'White Privilege' – Then Have Your Mind Blown
IMAGE: The Visuals You Need / Shutterstock.com
Like The College Fix on Facebook / Follow us on Twitter