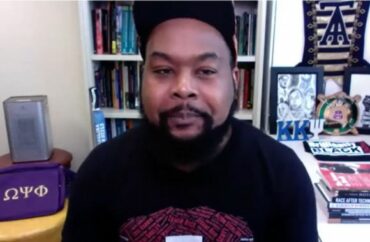 Critical race theory 'can be used as a lens to critically examine the culture and practices of postsecondary chemistry education (learning, research and engagement) in the USA and beyond'
Critical race theory can be applied to the teaching of chemistry, according to a University of Illinois-Chicago professor.
Professor Terrell Morton is an "Identity and Justice in STEM Education" scholar who "draws from critical race theory, phenomenology, and human development to ascertain Black students' consciousness and how it manifests in their various embodiments and actions that facilitate their STEM postsecondary engagements," according to his faculty bio.
He held a similar job at the University of Missouri where he was brought on as a diversity hire. He was in the "inaugural cohort of Preparing Future Faculty Postdoctoral Fellows for Diversity at MU," according to his LinkedIn profile.
He wrote in Nature that CRT can "identify tangible strategies for redressing and mitigating structural racism in chemistry."
Professor Morton (pictured) wrote that chemistry and the science field at large "has maintained a culture that typically favours white, cisgender, middle-to-high socioeconomic status, heterosexual, non-disabled men."
Minority students, he wrote, "must alter their presentation of themselves to be seen as someone capable of succeeding — including abandoning aspects of their home and cultural identities, having to go above and beyond to demonstrate their intellectual capabilities."
Morton says that "is not divisive, it is not designed to shame, demonize or encourage hate, and it does not inherently produce feelings of guilt or blame" and is not taught in schools, despite the claims of conservative politicians. In fact, it is "rarely taught" even in undergraduate, according to the UIC "scholar-activist."
There are several ways the scholar found racism embedded in chemistry. "Racial realism applied to chemistry acknowledges that the field, and science generally, exists as a microcosm of the broader society and thereby perpetuates structural racism or gendered racism," he wrote.
"Whiteness as property," according to Morton, explains why the contributions of black scientists are not respected. "The erasure of Black perspectives and experiences in science, historical and contemporary, normalize science as white property, perpetuating feelings of invisibility and hypervisibility for Black students."
Morton previously gave a presentation in 2021 on "deprogramming whiteness" which made similar points as his 2023 essay.
He also takes on the "myth of meritocracy" in his CRT "analysis." Requirements for academic and career success, such as letters of recommendation, perpetuate racism, Morton wrote in his essay. "Obtaining a letter is about more than just a person's merit; it is also a reflection of a student–professor relationship," he wrote. "Students must therefore be aware that they will need such a letter and develop an appropriate rapport with the professor, which requires a certain form of social and cultural capital not readily available to all students."
When it comes to targeted efforts to help racial minorities, such as special fellowships or other opportunities, racism still reigns. This is because "the efforts put forth and maintained are ones that support those minoritized in ways that do not completely disrupt the status quo, with no real shift in power occurring."
He included a few proposals for how to defeat racism in the chemistry field, "includ[ing] generating a critical mass of people who share similar ideologies regarding the liberation of Black people" and favoring faculty that undertake efforts "that intentionally advance the needs of Black communities."
"Professional societies and spaces (such as academic journals) can advance structural change by making anti-racism and anti-oppression core to their mission, values and practices," he wrote. "Expressed commitments to anti-racism must be coupled with anti-oppressive practices that prompt cultural change."
MORE: British museums double down on 'antiracism'
IMAGE: SAFE/YouTube
Like The College Fix on Facebook / Follow us on Twitter