Coastal Carolina University got mocked on Reddit and Twitter earlier this month for a poster that literally said drunk men would be charged with rape for having sex with drunk women, which would make a lot of campus sex, rape.
The poster bothered the Foundation for Individual Rights in Education among many others, and it asked the school about it. Coastal Carolina replied that it was a "very short lived" poster from eight years ago, and "the conversation with our students about sexual consent has changed dramatically."
@asheschow seeing your tweets reminded me of a poster my college (@CCUChanticleers) created/posted in 2008. Enjoy. pic.twitter.com/RJ7GPK1Tt5

— Michael Marinaccio (@MikeNRSC) July 8, 2015
Indeed – students now have an even worse idea of how to have sex without the university classifying it as rape. Check out the new poster they sent FIRE.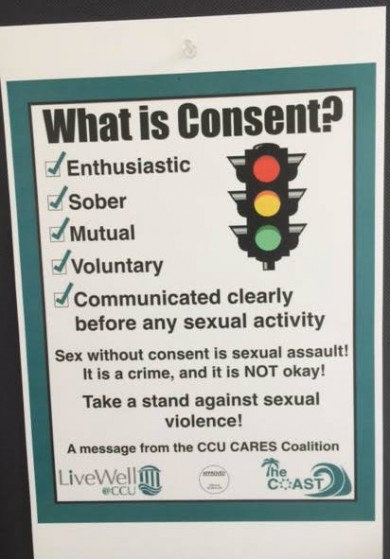 As you'll notice, this poster doesn't blame one party or another now when they're both drunk. But it says it's not enough to be "sober" or "enthusiastic" on its own. You must be both, and communicate your consent "clearly" before you start.
Two sex partners reading this poster conservatively would make sure they didn't drink any alcohol for the previous 24 hours. They could down a couple Red Bulls to make themselves particularly enthusiastic.
They could also take an aphrodisiac like yohimbe, though this drug may be easiest to find in a cocktail, which means students will be enthusiastic but not sober.
As FIRE says, this is not remotely helpful to students:
This makes it virtually impossible for students at CCU to know if the consent they have received is sufficient to satisfy the university. If you heard "okay," or "sure," have you received consent? Or must your advances be so irresistible that you hear nothing short of "Yes! You are so amazing; take me here and now!" Are you willing to stake your academic and professional future on the answer to that question?
And legally speaking, Coastal Carolina is simply wrong that drunk sex is unlawful, FIRE says: "Conflating intoxication with incapacitation is inaccurate and misleading, and it undermines legitimate efforts to stop rape."
Like The College Fix on Facebook / Follow us on Twitter
IMAGES: WillVision/Flickr, Coastal Carolina University, Thaiku.com screenshot