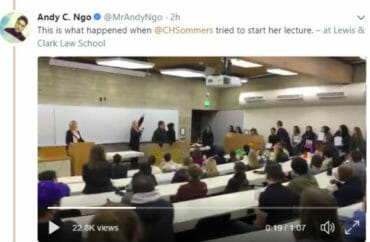 Lewis & Clark Law School knows there's video evidence of the administration-enabled shutdown of the Christina Hoff Sommers speech Monday, right?
The Portland school put out a statement four days after former College Fix contributor Andy Ngo's videos inside the venue drew nationwide attention.
It does not even acknowledge that there's objective evidence of student protesters repeatedly disrupting the event with chants, singing, verbal interruptions and stage-squatting, led by a white woman in a "Stay Woke" jacket:
On March 5, Christina Hoff Sommers, invited to Lewis & Clark Law School by a student group as a speaker, was disrupted by a few protestors at the beginning of her speech. After a few minutes, she was able to continue and students engaged in a vigorous discussion during the question-and-answer session.
It again described "a few" students who tried to shut down the event with Sommers, an American Enterprise Institute scholar and contrarian feminist who was nonsensically described as a "known fascist."
Those "few" students will be subject to "appropriate disciplinary actions in accordance with school policies," the school said. It claimed that it welcomes "speakers who represent a variety of opinions," without acknowledging that it tried to ban media coverage of the event.
The school was called out by Ngo among others for a "misleading" description of what happened.
Here is video of what happened. Now compare it to the official statement from the university. https://t.co/eU3TWTwN12

— Andy C. Ngo (@MrAndyNgo) March 9, 2018
Could Lewis & Clark not be aware that–thanks to reporting of @MrAndyNgo–there's video & contemporaneous reporting of disruptions of @CHSommers event? How does the school benefit from releasing a statement that so obviously misleads?https://t.co/lS1LCL51G3

— KC Johnson (@kcjohnson9) March 9, 2018
IMAGE: Andy Ngo/Twitter
Like The College Fix on Facebook / Follow us on Twitter